Robinson Wins Bojangles Junior Open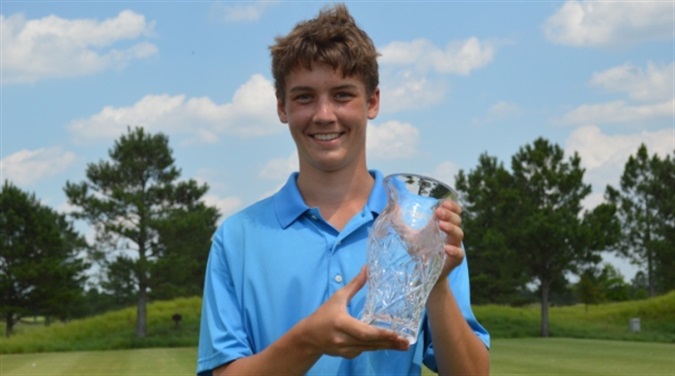 3rd TYGA Bojangles Junior Open
Cutter Creek GC Snow Hill, NC
June 3-4, 2017
Final Results
Pierce Robinson started the final round of the TYGA Bojangles Junior Open three shots back of the leaders, but quickly made a move up the leader board making four birdies and on his first nine holes at Cutter Creek Golf Club in Snow Hill, N.C. His opening nine of four under par 32 gave him a one shot lead with nine holes to go, but his back nine did not go as well. A birdie on the par three fifteenth helped the Kings Mountain, N.C. high school sophomore to a final round of two under par 70 and two day total of even par 144 and secured his victory by one shot. Grayson Wotnosky of Wake Forest, N.C., Carter Cheek of Cary, N.C. and Jeffrey Parker of Oak Ridge, N.C. finished tied for second place with a 36 hole total of one over par 145. Six juniors golfers tied for fifth three shots back at 147.
Along with the overall title, Robinson also won the boys' 15-16 age division. Other age division winners were Cheek (boys' 17-18) and Jake Herring of Wilson, N.C. (boys' 13-14).
The overall top ten golfers will receive exemptions into the Dogwood State Junior Boys' Championship at Bermuda Run Country Club in Advance, N.C. this coming August.
Boys' Overall (7,094 yards, par 72, 73.9/141)
1
Pierce Robinson (2019) Kings Mountain, NC
74-70--144
T2
Grayson Wotnosky (2020) Wake Forest, NC
75-70--145
Carter Cheek (2018) Cary, NC
72-73--145
Jeffrey Parker (2019) Oak Ridge, NC
71-74--145
T5
Charlie Tate (2018) Greensboro, NC
71-76--147
Brandon Einstein (2018) Clemmons, NC
79-68--147
Will Hawley (2019) Raleigh, NC
74-73--147
Zach Roberts (2020) Holly Springs, NC
71-76--147
Jacob Rutter (2017) Winston-Salem, NC
74-73--147
Justin Poole (2017) Wendell, NC
72-75--147
11
Jack Towarnicky (2019) New Bern, NC
73-75--148
T12
Brian Chen (2017) Cary, NC
75-74--149
Whit Edwards (2020) Greensboro, NC
75-74--149
Jake Herring (2021) Wilson, NC
71-78--149
Frank Gilliam (2020) Raleigh, NC
76-73--149
T16
Nicolas Brown (2017) Winterville, NC
74-76--150
Seve Anfindsen (2017) Apex, NC
74-76--150
Griffin Burke (2017) Cary, NC
73-77--150
Davis Gilmore (2018) Winston Salem, NC
72-78--150
Randall Hudson (2020) New Bern, NC
74-76--150
Casey Osiecki (2020) New Bern, NC
75-75--150
T22
Brady Hooks (2019) Clayton, NC
77-74--151
Avery Papalia (2017) Kernersville, NC
74-77--151
Jacob Lowe (2017) Angier, NC
77-74--151
Cameron Akers (2020) Asheville, NC
73-78--151
Matthew Fary (2018) Thomasville, NC
75-76--151
Dawson Daniels (2018) Greensboro, NC
81-70--151
Chandler Perry (2018) Clinton, NC
77-74--151
Cole Long (2018) Lillington , NC
76-75--151
T30
Symon Balbin (2019) Pinehurst, NC
77-75--152
Jack Marcotte (2019) Apex, NC
76-76--152
Riley Smith (2019) Concord, NC
78-74--152
Ethan Hall (2019) Morehead City, NC
75-77--152
Justin Kristof (2018) Morrisville, NC
78-74--152
T35
Thomas Hill (2017) Wilmington , NC
74-79--153
Logan Patrick (2020) Dunn, NC
79-74--153
T37
Tyler Spencer (2017) Greenville, NC
81-73--154
Joey Pritchard (2020) Whispering Pines, NC
79-75--154
Tyler Dechellis (2020) Clayton, NC
75-79--154
Kellen Graham (2018) Asheville , NC
78-76--154
T41
Nicholas Holanek (2017) Cary, NC
77-78--155
Britt Stroud (2019) Raleigh, NC
77-78--155
Jack Phenecie (2018) Davidson, NC
79-76--155
T44
Sam McGee (2017) Charlotte, NC
79-77--156
Andrew Graham (2021) Asheville, NC
77-79--156
Zach Pardoll (2019) Waxhaw, NC
73-83--156
T47
Cole Richardson (2018) Jamestown, NC
74-83--157
Trey Pope (2018) Clinton, NC
81-76--157
Ian Apsey (2018) Clayton, NC
80-77--157
Caleb Kimbrough (2019) New Bern, NC
81-76--157
T51
Alex Huml (2019) Cary, NC
76-82--158
Parker Eason (2017) Greenville, NC
79-79--158
Matthew Hayes (2018) Clayton, NC
79-79--158
Brandon Jones (2019) Sanford, NC
78-80--158
T55
Patrick Warnock (2018) Cary, NC
78-81--159
Carter Boulia (2019) Cary, NC
78-81--159
Zach Gilbert (2019) Davidson, NC
78-81--159
Carter Busse (2021) Davidson, NC
79-80--159
T59
James Carlin (2020) Raleigh, NC
82-78--160
Colby Mitchell (2018) Raleigh, NC
80-80--160
Aaron Haberkorn (2019) Clayton, NC
81-79--160
T62
Colton Danks (2020) Roseboro, NC
81-80--161
Matthew Richardson (2022) Ayden, NC
82-79--161
Noah Kallam (2018) Clayton, NC
77-84--161
Ethan Diamadi (2019) New Bern, NC
82-79--161
66
Christopher Fillingame (2018) Pilot Mountain, NC
81-81--162
T67
Tyler Owens (2019) Cary, NC
80-83--163
Brantley Moore (2017) Wilmington, NC
84-79--163
69
Logan Sessoms (2018) Fayetteville, NC
82-82--164
T70
Joseph Bishop (2018) Greenville, NC
80-86--166
Ryan Bradley (2020) Cary, NC
83-83--166
Jacob Kallam (2020) Clayton, NC
79-87--166
73
Houston Brabble (2019) New Bern , NC
88-79--167
T74
David Valcheff (2017) Apex, NC
79-89--168
Hayes Mahoney (2022) Greenville, NC
90-78--168
T76
Jackson Crocker (2020) Kinston, NC
81-89--170
Fitz Miller (2019) Cary, NC
83-87--170
78
Christopher Gardner (2019) Rocky Mount, NC
86-86--172
79
Josh Bloom (2018) Holly Springs, NC
92-81--173
80
Alex Casatelli (2018) Clayton, NC
88-86--174
T81
Zach Heath (2018) Winterville, NC
84-91--175
Sam Swanner (2019) Huntersville, NC
85-90--175
83
Eric Xing (2020) Cary, NC
85-91--176
84
Jake Petroski (2019) Clayton, NC
94-83--177
85
Ben Casatelli (2020) Clayton, NC
89-89--178
86
Joel Parnell (2018) Fayetteville, NC
98-85--183
87
Matthew Griffin (2019) Winterville, NC
92-97--189
88
Robert Allen (2020) Greenville, NC
95-95--190
89
Simon Owens (2021) Tarboro, NC
97-97--194
90
Carson Hathaway (2022) Winterville , NC
114-93--207
Division Results
Boys' 17-18 (7,094 yards, par 72, 73.9/141)
Place
Name
Score
1
Carter Cheek (2018), Cary, NC
72-73--145
T2
Brandon Einstein (2018), Clemmons, NC
79-68--147
T2
Charlie Tate (2018), Greensboro, NC
71-76--147
T2
Jacob Rutter (2017), Winston-Salem, NC
74-73--147
T2
Justin Poole (2017), Wendell, NC
72-75--147
6
Brian Chen (2017), Cary, NC
75-74--149
T7
Davis Gilmore (2018), Winston Salem, NC
72-78--150
T7
Griffin Burke (2017), Cary, NC
73-77--150
T7
Nicolas Brown (2017), Winterville, NC
74-76--150
T7
Seve Anfindsen (2017), Apex, NC
74-76--150
T11
Avery Papalia (2017), Kernersville, NC
74-77--151
T11
Chandler Perry (2018), Clinton, NC
77-74--151
T11
Cole Long (2018), Lillington , NC
76-75--151
T11
Dawson Daniels (2018), Greensboro, NC
81-70--151
T11
Jacob Lowe (2017), Angier, NC
77-74--151
T11
Matthew Fary (2018), Thomasville, NC
75-76--151
17
Justin Kristof (2018), Morrisville, NC
78-74--152
18
Thomas Hill (2017), Wilmington , NC
74-79--153
T19
Kellen Graham (2018), Asheville , NC
78-76--154
T19
Tyler Spencer (2017), Greenville, NC
81-73--154
T21
Jack Phenecie (2018), Davidson, NC
79-76--155
T21
Nicholas Holanek (2017), Cary, NC
77-78--155
23
Sam McGee (2017), Charlotte, NC
79-77--156
T24
Cole Richardson (2018), Jamestown, NC
74-83--157
T24
Trey Pope (2018), Clinton, NC
81-76--157
T26
Matthew Hayes (2018), Clayton, NC
79-79--158
T26
Parker Eason (2017), Greenville, NC
79-79--158
28
Colby Mitchell (2018), Raleigh, NC
80-80--160
29
Noah Kallam (2018), Clayton, NC
77-84--161
30
Christopher Fillingame (2018), Pilot Mountain, NC
81-81--162
31
Brantley Moore (2017), Wilmington, NC
84-79--163
32
Logan Sessoms (2018), Fayetteville, NC
82-82--164
33
David Valcheff (2017), Apex, NC
79-89--168
34
Josh Bloom (2018), Holly Springs, NC
92-81--173
35
Alex Casatelli (2018), Clayton, NC
88-86--174
36
Zach Heath (2018), Winterville, NC
84-91--175
37
Joel Parnell (2018), Fayetteville, NC
98-85--183
Boys' 15-16 (7,094 yards, par 72, 73.9/141)
Place
Name
Score
1
Pierce Robinson (2019), Kings Mountain, NC
74-70--144
T2
Grayson Wotnosky (2020), Wake Forest, NC
75-70--145
T2
Jeffrey Parker (2019), Oak Ridge, NC
71-74--145
T4
Will Hawley (2019), Raleigh, NC
74-73--147
T4
Zach Roberts (2020), Holly Springs, NC
71-76--147
6
Jack Towarnicky (2019), New Bern, NC
73-75--148
T7
Frank Gilliam (2020), Raleigh, NC
76-73--149
T7
Whit Edwards (2020), Greensboro, NC
75-74--149
T9
Casey Osiecki (2020), New Bern, NC
75-75--150
T9
Randall Hudson (2020), New Bern, NC
74-76--150
T11
Brady Hooks (2019), Clayton, NC
77-74--151
T11
Cameron Akers (2020), Asheville, NC
73-78--151
T13
Ethan Hall (2019), Morehead City, NC
75-77--152
T13
Jack Marcotte (2019), Apex, NC
76-76--152
T13
Riley Smith (2019), Concord, NC
78-74--152
T13
Symon Balbin (2019), Pinehurst, NC
77-75--152
17
Logan Patrick (2020), Dunn, NC
79-74--153
18
Joey Pritchard (2020), Whispering Pines, NC
79-75--154
19
Britt Stroud (2019), Raleigh, NC
77-78--155
20
Zach Pardoll (2019), Waxhaw, NC
73-83--156
T21
Caleb Kimbrough (2019), New Bern, NC
81-76--157
T21
Ian Apsey (2018), Clayton, NC
80-77--157
T23
Alex Huml (2019), Cary, NC
76-82--158
T23
Brandon Jones (2019), Sanford, NC
78-80--158
T25
Carter Boulia (2019), Cary, NC
78-81--159
T25
Patrick Warnock (2018), Cary, NC
78-81--159
T25
Zach Gilbert (2019), Davidson, NC
78-81--159
T28
Aaron Haberkorn (2019), Clayton, NC
81-79--160
T28
James Carlin (2020), Raleigh, NC
82-78--160
T30
Colton Danks (2020), Roseboro, NC
81-80--161
T30
Ethan Diamadi (2019), New Bern, NC
82-79--161
32
Tyler Owens (2019), Cary, NC
80-83--163
T33
Jacob Kallam (2020), Clayton, NC
79-87--166
T33
Joseph Bishop (2018), Greenville, NC
80-86--166
T33
Ryan Bradley (2020), Cary, NC
83-83--166
36
Houston Brabble (2019), New Bern , NC
88-79--167
T37
Fitz Miller (2019), Cary, NC
83-87--170
T37
Jackson Crocker (2020), Kinston, NC
81-89--170
39
Christopher Gardner (2019), Rocky Mount, NC
86-86--172
40
Sam Swanner (2019), Huntersville, NC
85-90--175
41
Jake Petroski (2019), Clayton, NC
94-83--177
42
Ben Casatelli (2020), Clayton, NC
89-89--178
43
Matthew Griffin (2019), Winterville, NC
92-97--189
Boys' 13-14 (7,094 yards, par 72, 73.9/141)
Place
Name
Score
1
Jake Herring (2021), Wilson, NC
71-78--149
2
Tyler Dechellis (2020), Clayton, NC
75-79--154
3
Andrew Graham (2021), Asheville, NC
77-79--156
4
Carter Busse (2021), Davidson, NC
79-80--159
5
Matthew Richardson (2022), Ayden, NC
82-79--161
6
Hayes Mahoney (2022), Greenville, NC
90-78--168
7
Eric Xing (2020), Cary, NC
85-91--176
8
Robert Allen (2020), Greenville, NC
95-95--190
9
Simon Owens (2021), Tarboro, NC
97-97--194
10
Carson Hathaway (2022), Winterville , NC
114-93--207