Myers Park HS wins North Carolina High School Invitational, Shimp wins individual in playoff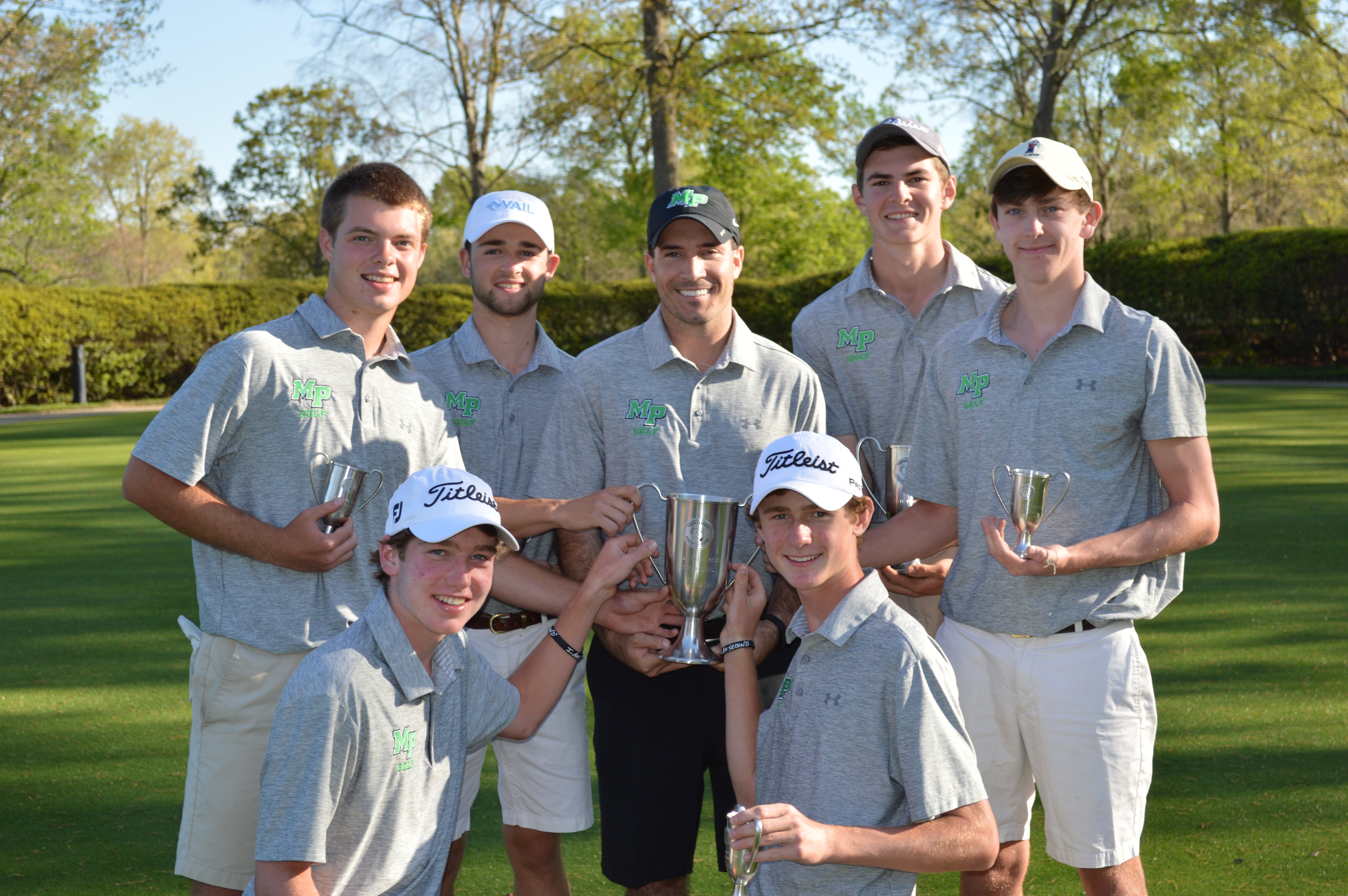 10th North Carolina High School Invitational
Treyburn C.C. Durham, NC
April 4, 2016
Final Results
Myers Park HS of Charlotte, NC continued there hot play of late to fire an eleven over par, 299, to win the 10th North Carolina High School Invitational hosted by Treyburn Country Club in Durham, NC. It was on the back nine where Myers Park made their statement by shooting a team total of four under par.
Henry Shimp of Myers Park, Michael Wicker of North Durham, and Doc Redman of Leesville Road all shot a round of even par, 72, to tie for the lead. In the end it was Henry Shimp that would take the medalist honors in a one hole playoff. In the playoff Shimp had to scramble from the trees but was able to make a 25 foot putt for par and the victory.
This annual high school tournament is conducted by the Tarheel Youth Golf Association.
Team Results
Place
School
Total
1
Myers Park, Charlotte, NC
299
2
Charlotte Christian, Charlotte, NC
307
3
Christ School, Arden, NC
313
3
Cannon School, Concord, NC
313
5
Broughton HS, Raleigh, NC
314
6
St. David's School, Raleigh, NC
315
6
Forestview HS, Gastonia, NC
315
8
Westchester Country Day, High Point, NC
317
9
East Rowan HS, Salisbury, NC
323
10
Wilmington Christian, Wilmington, NC
325
11
Leesville Road HS, Raleigh, NC
327
12
Lincoln Charter School, Denver, NC
333
13
Burlington School, Burlington, NC
343
Invidual Results (6,904 yards par 72)
Place
Name
Score
T1
Henry Shimp (2016) Charlotte, NC *
72
Michael Wicker (2016) Rougemont, NC
72
Doc Redman (2016) Raleigh, NC
72
T4
Jimbo Stanley (2017) Raleigh, NC
73
Rhodes Karriker (2017) Matthews, NC
73
6
Thomas Eubanks (2019) Charlotte , NC
74
T7
Blake Taylor (2016) Atkinson, NC
75
Patrick Carlin (2018) Raleigh, NC
75
Jack Brea (2017) Charlotte, NC
75
T10
Walker Cress (2016) Concord, NC
76
Avery Price (2017) Gastonia , NC
76
Dustin Blank (2017) Elon, NC
76
Andrew Wilmoth (2018) Raleigh, NC
76
Logan McNeely (2017) Conover, NC
76
T15
Joey W Funderburg (2016) Wilmington, NC
77
Chris Ford (2017) Matthews, NC
77
Hardin Councill (2016) High Point, NC
77
Aaron Graham (2016) Asheville, NC
77
Jake Weiland (2017) High Point, NC
77
Carson Ownbey (2018) Candler, NC
77
Lansdon Robbins (2018) Davidson, NC
77
Madison Duffie (2017) Gastonia, NC
77
Connor Armistead (2017) Charlotte, NC
77
T24
Nicholas Lyerly (2017) Salisbury, NC
78
Grant Smith (2019) Charlotte, NC
78
Parker Gillam (2017) Cary, NC
78
Michael Sanders (2018) Davidson, NC
78
T28
Michael Childress (2018) Salisbury, NC
79
Michael Baker (2017) Concord, NC
79
Walker Simas (2016) Charlotte, NC
79
Logan Shuping (2016) Salisbury, NC
79
Evan Crook (2016) Sherrills Ford, NC
79
Chris Akers (2016) Asheville, NC
79
Drew Jurs (2016) Gastonia, NC
79
Tim Bunten (2017) Concord, NC
79
Preston Ball (2016) Raleigh, NC
79
John Walker (2016) Conover, NC
79
Chase Portaro (2020) High Point, NC
79
Joey Pettis (2017) Raleigh, NC
79
Witt Cordell (2017) Charlotte, NC
79
T41
Stephen Carroll (2017) Concord, NC
80
Jessica Spicer (2016) Bahama, NC
80
John Freeman (2016) Asheville, NC
80
Michael Freeman (2016) Asheville, NC
80
Kell Graham (2016) Matthews, NC
80
T46
Will Hawley (2019) Raleigh, NC
81
Nathan Holt (2016) Burlington, NC
81
T48
William Crook (2018) Sherrills Ford, NC
82
Gray Matthews (2016) Raleigh, NC
82
T50
Bryson Sprinkle (2018) Salisbury, NC
83
William Booker (2016) Gastonia, NC
83
Ben Rollins (2016) Salisbury, NC
83
T53
Christopher Queen (2016) Salisbury, NC
84
Carson Castelli (2018) Greensboro, NC
84
Ian Craig (2017) High Point, NC
84
Braxton Tracy (2018) Huntersville, NC
84
Justin Morgan (2017) Denver, NC
84
Austin Sandford (2016) Gastonia, NC
85
59
Colby Mitchell (2018) Raleigh, NC
85
T60
Wyatt Wellington (2016) Asheboro, NC
86
Jake Booth (2018) Rocky Point, NC
86
Stanton McKay (2017) Concord, NC
86
Smith Brewer (2019) Raleigh, NC
86
T64
Sam Stamey (2017) Wilmington, NC
87
Jordan Peck (2016) Raleigh, NC
87
Thomas Garbee (2016) Asheville, NC
87
T67
Will Hanna (2018) Raleigh, NC
88
Fletcher Riddle (2016) Burlington , NC
88
Harrison Hall (2017) Denver, NC
88
70
Nick Clemente (2017) Raleigh, NC
89
71
Will Lewis (2018) Raleigh, NC
90
72
Sarah Funderburg (2018) Wilmington, NC
91
T73
Grant Armistead (2016) Charlotte, NC
92
Thomas Maye (2019) Charlotte, NC
92
T75
Corey Wilson (2016) Raleigh, NC
96
Dylan Land (2017) Stanely, NC
96
77
Davis Blank (2018) Elon, NC
98
78
Jacob Houser (2017) Denver, NC
100
79
Alex Bullis (2019) Burlington, NC
101
80
Sarah Spicer (2016) Bahama, NC
WD