Myers Park HS wins the Pinecrest High School Invitational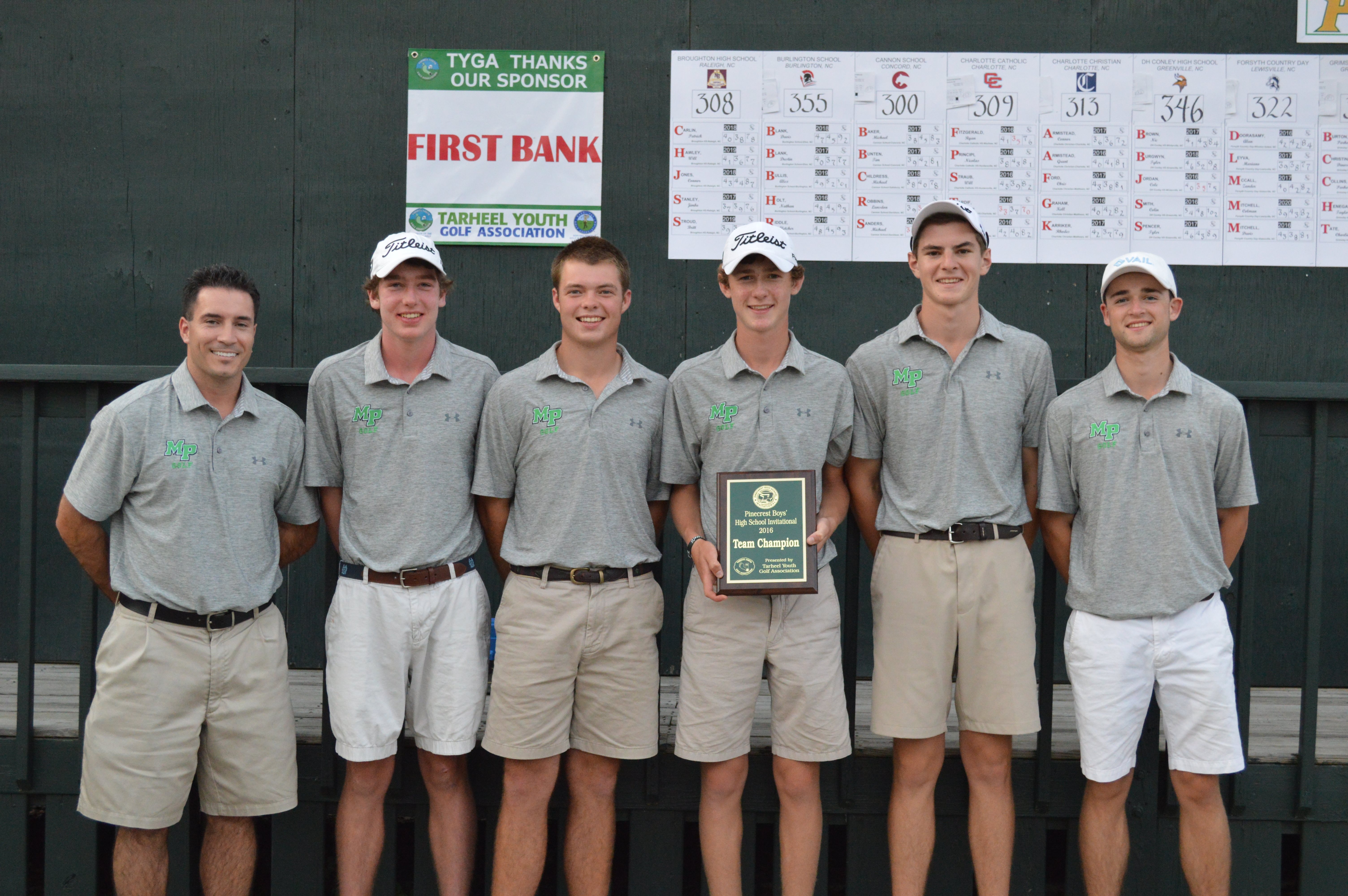 Pinecrest High School Invitational
Pinehurst No. 8 Pinehurst, NC
April 19, 2016
Final Results
Myers Park High School of Charlotte, shoots a team total of eight over par, 296, to win the Pinecrest High School Invitational firing by four shots over Cannon School of Concord, NC.
Myers Park High School was led by Freshman, Grant Smith of Charlotte, NC. Smith fired a four under par, 68 to tie for co-medalist with Cannon School's Michael Sanders of Davidson, NC. Sanders stated that he hit the ball well today but said it was his putting that gave him the ability to go low today.
The Pinecrest High School Invitational is conducted by the Tarheel Youth Golf Association.
Team Results
Place
School
Total
1
Myers Park HS, Charlotte, NC
296
2
Cannon School, Concord, NC
300
3
William A Hough HS, Cornelius, NC
305
3
The O'Neal School, Pinehurst, NC
305
5
Pinecrest HS, Pinehurst, NC
306
6
Broughton HS, Raleigh, NC
308
7
Pinecrest Green, Pinehurst, NC
309
7
Charlotte Catholic, Charlotte, NC
309
9
Charlotte Christian, Charlotte, NC
313
10
Forsyth Country Day, Lewisville, NC
322
10
Providence HS, Charlotte, NC
322
12
Wilmington Christian, Wilmington, NC
331
12
Leesville Road HS, Raliegh, NC
331
14
Northern Durham HS, Durham, NC
340
15
DH Conley HS, Greenville, NC
346
16
South Johnston HS, Four Oaks, NC
349
17
Burlington Day School, Burlington, NC
355
18
Grimsley HS, Greensboro, NC
356
Individual Results (6,704 yards par 72)
Place
School
Total
T1
Grant Smith (2019) Charlotte, NC
68
Michael Sanders (2018) Davidson, NC
68
3
Fulton Smith (2019) Pinehurst, NC
69
4
Quinn Tardif (2016) Charlotte, NC
70
T5
Eric Bae (2016) Pinehurst, NC
71
Patrick Stephenson (2016) Four Oaks, NC
71
Blake Taylor (2016) Atkinson, NC
71
8
Connor Armistead (2017) Charlotte, NC
72
T9
Michael Wicker (2016) Rougemont, NC
73
Lansdon Robbins (2018) Davidson, NC
73
T11
Blake Wagoner (2016) Cornelius, NC
74
Dylan Fisher (2016) Charlotte, NC
74
Jackson Van Paris (2021) Pinehurst, NC
74
T14
Drew Viney (2017) Pinehurst, NC
75
Jack Brea (2017) Charlotte, NC
75
Cole Jordan (2016) Winterville, NC
75
T17
Jimbo Stanley (2017) Raleigh, NC
76
Walker Simas (2016) Charlotte, NC
76
Ryan Fitzgerald (2016) Waxhaw, NC
76
Thomas Deal (2018) Cornelius, NC
76
Drew Martin (2017) Pinehurst, NC
76
T22
Christian Park (2016) Charlotte, NC
77
Henry Shimp (2016) Charlotte, NC
77
Dustin Blank (2017) Elon, NC
77
Will Hawley (2019) Raleigh, NC
77
Britt Stroud (2019) Raleigh, NC
77
Ben Woodruff (2018) Huntersville, NC
77
Mariano Leyva (2017) Lewisville, NC
77
Attie Giles (2018) Pinehurst, NC
77
T30
Michael Childress (2018) Salisbury, NC
78
James Sugg (2016) Pinehurst, NC
78
Patrick Carlin (2018) Raleigh, NC
78
Symon Balbin (2019) Pinehurst, NC
78
Corey Wilson (2016) Raleigh, NC
78
August Beechler (2018) Pinehurst, NC
78
Geehoon Yu (2018) Cornelius, NC
78
T37
Rhodes Karriker (2017) Matthews, NC
79
Nash Neptune (2016) Pinehurst, NC
79
Benjamin Crow (2018) Pinehurst, NC
79
T40
Joey Pettis (2017) Raleigh, NC
80
Thomas Eubanks (2019) Charlotte , NC
80
T42
Chris Ford (2017) Matthews, NC
81
Jessica Spicer (2016) Bahama, NC
81
Nicolas Principi (2016) Huntersville, NC
81
Tim Bunten (2017) Concord, NC
81
Davis Mitchell (2016) Statesville, NC
81
Grant Armistead (2016) Charlotte, NC
81
T48
Zander McCall (2017) Statesville, NC
82
Michael Walsh (2016) Charlotte, NC
82
Will Straub (2016) Huntersville, NC
82
Charlie Tate (2018) Greensboro, NC
82
Kell Graham (2016) Matthews, NC
82
Jared Robinson (2017) Pinehurst, NC
82
Colman Mitchell (2020) Lewisville, NC
82
55
Michael Baker (2017) Concord, NC
83
T56
Joey Funderburg (2016) Wilmington, NC
84
Nic Brown (2017) Winterville, NC
84
Josh Barnett (2018) Charlotte, NC
84
Will Westbrook (2016) Winston Salem, NC
84
Jordan Peck (2016) Raleigh, NC
84
Brooks Skinner (2016) Four Oaks, NC
84
62
Krystian Romero (2016) Pinehurst , NC
85
T63
Sarah Funderburg (2018) Wilmington, NC
86
Joey Pritchard (2020) Whispering Pines, NC
86
T65
Connor Jones (2018) Raleigh, NC
87
Cole Sutherland (2018) Charlotte, NC
87
67
Dawson Christina (2017) Greensboro, NC
88
T68
Tyler Spencer (2017) Greenville, NC
89
Nick Clemente (2017) Raleigh, NC
89
T70
Jake Booth (2018) Rocky Point, NC
90
Parker Burton (2018) Greensboro, NC
90
72
David Schoening (2018) Raleigh, NC
91
T73
Sarah Spicer (2016) Bahama, NC
92
Ronnie Uszenski (2016) Cornelius, NC
92
Davis Blank (2018) Elon, NC
92
T76
Fletcher Riddle (2016) Burlington , NC
93
Nathan Holt (2016) Burlington, NC
93
T78
Jordan Barbour (2017) Benson, NC
94
Jake Jackson (2016) Bahama, NC
94
80
Parker Collins (2019) Greensboro, NC
96
81
Brian Subin (2016) Pinehurst, NC
97
T82
Tyler Burgwyn (2018) Greenville, NC
98
Gordon White (2016) Charlotte, NC
98
T84
Casey Charbonneau (2018) Four Oaks , NC
100
Taylor Henegar (2017) Greensboro, NC
100
86
Alex Bullis (2019) Burlington, NC
101
T87
Colin Smith (2016) Greenville, NC
102
Cameron McMullen (2018) Four Oaks, NC
102
89
Cody Helm (2016) Durham, NC
115