Stephenson Halfway to Title Defense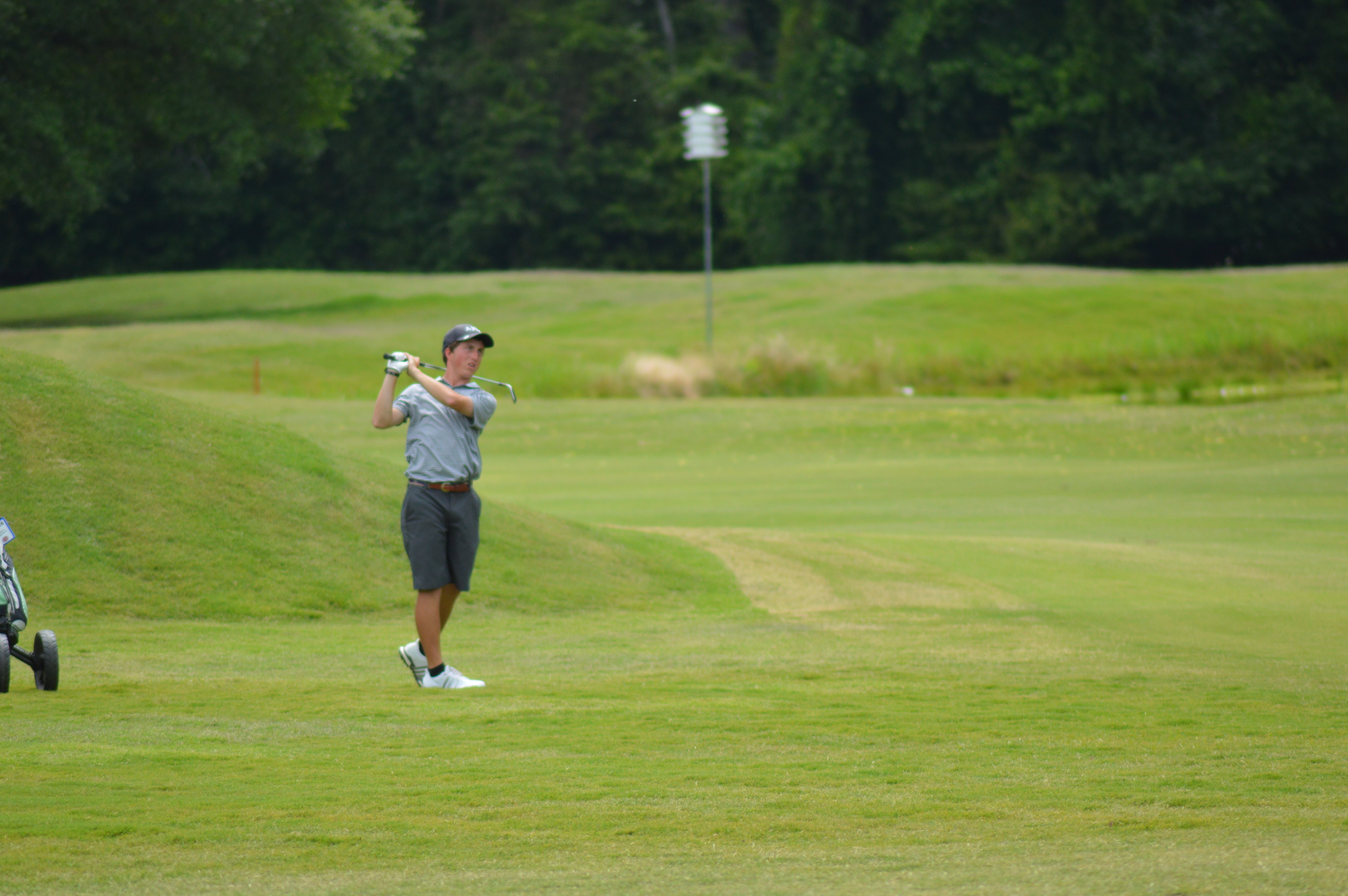 Stephenson halfway to title defense after Bojangles Junior Open 1st Round
Patrick Stephenson fired a five-under-par 67 to take the first round lead.
Snow Hill, N.C. (June 4-5, 2016) –First round results from Bojangles Junior Open hosted by Cutter Creek GC in Snow Hill, N.C on Saturday, June 4, 2016 (6 ,965yards, par 36-36--72, Course/Slope Rating: 73.9/141).
The weather was in question throughout the first round of play at the 2nd Bojangles Junior Open. Patrick Stephenson left nobody questing his ability to defend after firing a five-under-par 67 to take a 3 shot lead into the final round. "I have always played this golf course pretty well," Stephenson Said. The East Carolina University commit got off to a quick start with birdies on Nos. 2 and 4. "I managed to make a 40 footer on No. 2. That was nice, kind of unexpected. Then on No. 4 we all hit it tight to about six feet and I got a good read," The Four Oaks N.C. product explained. Another birdie on No. 7 allowed Stephenson to make the turn three-under-par. The high school senior got it to four-under with a birdie on the par-five 11th before his only blemish on the card, a bogy at No. 13. The defending champion created additional separation with back-to-back birdies on Nos. 16 and 17. Stephenson has registered three straight under-par rounds at the Bojangles Junior Open and has held the lead after every round.
Grayson Wotnosky of Wake Forest, N.C. used a quick birdie on his first hole to propel himself to a two-under-par 70. The rising high school freshman started on the backside and recorded another birdie on the par-three 15th. The fifteen year-old suffered a bogey on No. 1 but bounced back with a birdie on No. 2. Wotnosky used seven straight pars to finish in second place.
Jake Rutter of Winston-Salem, N.C. also got off to a fast start. The high school junior birdied No. 1 to set the tone for a three-under-par 33 on the front nine. Rutter was able to ride the ship after a difficult back nine with a birdie on his finishing hole leaving him in third place.
Boys 17-18 (6965 yards, par 72, 73.9/141)
Place
Name
Score
1
Patrick Stephenson, Four Oaks, NC
33-34--67
2
Jake Rutter, Winston-Salem, NC
33-38--71
T3
Alex Scott, Raleigh, NC
36-36--72
Jacob Lowe, Angier, NC
38-34--72
Rhodes Karriker, Matthews, NC
37-35--72
6
Chandler Metz, Wilkesboro, NC
36-37--73
7
Jimbo Stanley, Raleigh, NC
35-39--74
T8
Austin Bonfiglio, Holly Springs, NC
37-38--75
Matthew Guo, Clemmons, NC
40-35--75
Patrick Schweitz, Clayton, NC
38-37--75
T11
Brody Davis, Harrisburg, NC
39-37--76
Nicholas Holanek, Cary, NC
37-39--76
Seve Anfindsen, Apex, NC
36-40--76
Wes Simmons, Kinston, NC
35-41--76
T15
Avery Papalia, Kernersville, NC
35-42--77
Brian Chen, Cary, NC
35-42--77
T17
Cole Pridgen, Warsaw, NC
37-41--78
Wesley Sink, Advance, NC
39-39--78
T19
Ethan Faulconer, Smithfield, NC
38-41--79
Thomas Hill, Wilmington , NC
39-40--79
Trey Capps, Garner, NC
39-40--79
Zach Caudill, Wilkesboro, NC
42-37--79
T23
Colin Smith, Greenville, NC
40-40--80
Shawn Sexton, Stoneville, NC
42-38--80
T25
Justin Kristof, Morrisville, NC
38-43--81
Tyler Spencer, Greenville, NC
41-40--81
27
Brock Olson, Wake Forest, NC
42-40--82
T28
Candler Matthews, Wilson, NC
42-41--83
Joseph Gesell, Greensboro, NC
40-43--83
30
Zachary Cartner, Mocksville, NC
38-46--84
31
Parker Eason, Greenville, NC
45-40--85
T32
Dale Horn, Stoneville, NC
42-44--86
Theodore Bartholomew, Cary, NC
42-44--86
34
Alec Foster, Farmville , NC
41-46--87
35
Matthew Gorham, Winterville, NC
44-51--95
36
Colin Frost, Wake Forest, NC
46-51--97
Boys 15-16 (6965 yards, par 72, 73.9/141)
Place
Name
Score
1
Grayson Wotnosky, Wake Forest, NC
36-34--70
2
Jackson Tyler, Wilmington, NC
35-38--73
T3
Dalton Mauldin, Sanford, NC
37-37--74
Jack Phenecie, Davidson, NC
37-37--74
Michael Childress, Salisbury, NC
38-36--74
T6
Britt Stroud, Raleigh, NC
38-37--75
Dawson Daniels, Greensboro, NC
36-39--75
T8
Brandon Einstein, Clemmons, NC
37-39--76
Chandler Perry, Clinton, NC
38-38--76
Jeffrey Parker, Oak Ridge, NC
37-39--76
Kenan Poole II, Raleigh, NC
37-39--76
Matthew Hayes, Clayton, NC
35-41--76
T13
Colby Mitchell, Raleigh, NC
40-37--77
Cole Long, Dunn, NC
38-39--77
Davis Gilmore, Winston Salem, NC
37-40--77
Griffin Burke, Cary, NC
37-40--77
Joey Pritchard, Whispering Pines, NC
40-37--77
T18
Brady Hooks, Clayton, NC
38-40--78
Charlie Tate, Greensboro, NC
41-37--78
Nicholas Loy, Greenville, NC
40-38--78
Noah Kallam, Clayton, NC
39-39--78
T22
Chris Kim, Cary, NC
38-41--79
Joseph Cook, Rocky Mount, NC
39-40--79
Wesley Bryant, Nakina, NC
38-41--79
25
Brantley Moore, Wilmington, NC
41-39--80
T26
Jack Marcotte, Apex, NC
39-42--81
Pierce Robinson, Kings Mountain, NC
40-41--81
Sam Uberseder, Leiwsville, NC
42-39--81
Thomas Setzer, Winston-Salem, NC
42-39--81
T30
Alex Casatelli, Clayton, NC
45-37--82
Jack Towarnicky, New Bern, NC
41-41--82
Nic Brown, Winterville, NC
44-38--82
33
Joey Pettis, Raleigh, NC
38-45--83
T34
Austin Duncan, Bessemer City, NC
38-46--84
Fitz Miller, Cary, NC
42-42--84
T36
Addison Manring, Stoneville, NC
41-44--85
Carter Cheek, Cary, NC
43-42--85
T38
David Valcheff, Apex, NC
42-44--86
Eric Cabingas, New Bern , NC
43-43--86
Josh Bloom, Holly Springs, NC
40-46--86
41
Caleb Kimbrough, New Bern, NC
43-46--89
42
Sean O'Brien, Holly Springs, NC
43-47--90
T43
James Wiley, Raleigh, NC
44-47--91
Justin Recser, Clayton , NC
47-44--91
45
Richard Dull, Winston Salem, NC
47-47--94
46
Carter Dickinson, Raleigh, NC
51-45--96
47
Patrick Carlin, Raleigh, NC
WD-WD--WD
Boys 13-14 (6965 yards, par 72, 73.9/141)
Place
Name
Score
1
Whit Edwards, Greensboro, NC
35-38--73
2
Zach Brown, Bermuda Run, NC
38-37--75
3
Ethan Hall, Morehead City, NC
38-40--78
T4
Blake Brantley, Winston Salem, NC
42-38--80
Colton Danks, Roseboro, NC
39-41--80
T6
David Langley, Winterville, NC
41-40--81
Will Hawley, Raleigh, NC
43-38--81
T8
Houston Brabble, New Bern , NC
42-42--84
Luke Edwards, Chapel Hill, NC
43-41--84
10
Eric Xing, Cary, NC
43-48--91
11
David Wiley, Raleigh, NC
48-46--94
12
Zack Currin, Wake Forest, NC
47-53--100
13
John Ward, Charlotte, NC
57-50--107