Funderburg Leads the Way at Coastal Plains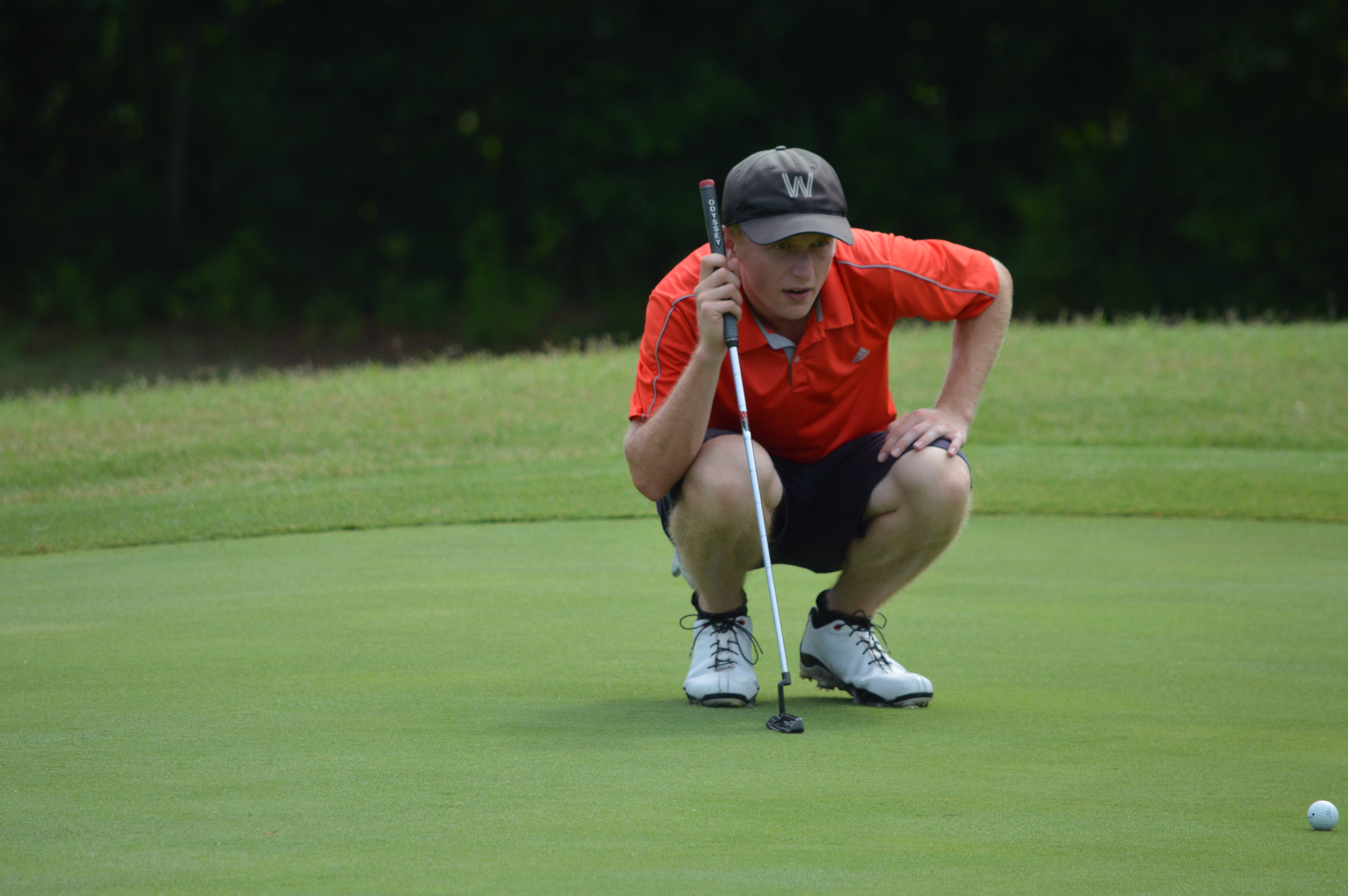 Funderburg Leads the Way at Coastal Plains Junior Amateur

GREENVILLE, N.C. (June 30, 2016) -- First Round results from the Tarheel Youth Golf Association Coastal Plains Junior Amateur at Bradford Creek in Greenville, N.C. on June 30, 2016.
A calm, beautiful, day in Greenville was full of excellent golf at Bradford Creek. Joey Funderburg of Wilmington N.C. caught everyone's attention when he made the turn at six-under-par. The recent high school graduate birdied all but three of the holes on the front nine. "My game was in pretty good shape, I kept throwing it in close and made some putts," Funderburg said. It looked like Funderburg was going to duplicate his performance on the back nine when he started with a birdie on No. 10. A bogey on No. 12 brought Funderburg back to reality but he found another birdie on the par-3 16th, his third birdie on the par-3's, to finish seven-under-par. "I know a good score is out there so I have to do the same thing as today and make more putts," Funderburg said. Nicholas Page of Dunn N.C. is on Funderburg's heels after carding a six-under-par 66. The recent high school graduate attributed his success to clean play throughout the day, "I didn't make many mistakes, I hit the ball well and made some putts," Page said. Page admitted that he was a little surprised that he was not the first round leader but he acknowledged that will set the stage for tomorrow. "It is going to be a challenge, I hope I can make a few more putts and keep hitting the ball well, it will be fun to see who can bring it home tomorrow."
Amy Wooten of Clinton N.C. was the only player in the Girl's Division to find red numbers. The rising high school junior found her first birdie of the day on the par-4 4th. Wooten birdied No. 8 before her only blemish, a bogey on No. 9. "I was hitting my driver in the fairway so I could be aggressive which led to solid approach shots," Wooten said. She carded nine pars on the back nine to finish with a one-under-par 71. Also in Wooten's group was defending champion Sarah Funderburg of Wilson N.C. "There was a little bit of pressure but I had to focus on what I was doing," Wooten said when talking about her group. Funderburg finished at two-over-par 74 to stay in second place.
The TYGA Coastal Plains Junior Amateur was the brainchild of Mike Cato, who brought the event to Bradford Creek 17 years ago. Boys and girls in North Carolina from 8-18 are given the opportunity to compete in the event. "We don't want to exclude anyone. It is so much fun watching the kids play and grow. One of my biggest joys is watching an eight year-old turn into a 17 and 18 year-old and win the whole tournament." The strength of the tournament is built on the cornerstone Cato and his army of volunteers provide. "All of the volunteers, staff, and sponsors help us put on a great product," Cato said.
Boy's 15 - 16 Age Division
Nicholas Loy of Greenville, N.C. and Patrick Carlin of Raleigh, N.C. are tied about the division and in the hunt in the Boy's Overall Division after finishing three-under-par 69.
Boy's 13 - 14 Age Division
Will Hawley of Raleigh, N. C. finds himself atop the division after coming in one-under-par 71.
Boy's 11 - 12 Age Division
Tyler Jones of Jacksonville, N.C. also used a one-under-par 71 to take the lead in his age division.
Girl's 11 - 14 Age Division
Grayson Warren of Washington, N. C. is leader her division after shooting a two-over-par 74.
Related: Championship Homepage | Tee times & Pairings | Hole-by-hole scoring | Photos
Results

Boys 17-18 (6673 yards, par 72, 71.1/123)
Place
Name
Score
1
Joey Funderburg (2016), Wilmington, NC
30-35--65
2
Nicholas Page (2016), Dunn, NC
34-32--66
3
Adam Parrish (2017), Mount Ulla , NC
36-34--70
T4
Bryson Boyette (2017), Wilson, NC
36-35--71
Jackson Stanley (2017), Greenville, NC
36-35--71
T6
Avery Papalia (2017), Kernersville, NC
37-36--73
Nic Brown (2017), Winterville, NC
38-35--73
Shawn Sexton (2017), Stoneville, NC
39-34--73
9
Thomas Hill (2017), Wilmington , NC
39-35--74
10
Tyler Spencer (2017), Greenville, NC
40-35--75
T11
Justin Kristof (2018), Morrisville, NC
39-37--76
Stanton McKay (2017), Concord, NC
36-40--76
T13
Nicholas Holanek (2017), Cary, NC
39-38--77
Trey Capps (2017), Garner, NC
35-42--77
T15
Parker Eason (2017), Greenville, NC
39-40--79
Tommy Alicardi (2017), Henderson, NC
40-39--79
T17
Dustin Wood (2016), Cove City, NC
40-40--80
Dylan Hoffman (2017), Asheboro, NC
42-38--80
19
Colin Smith (2016), Greenville, NC
41-43--84
20
Joshua Spears (2016), Emerald Isle, NC
44-41--85
21
Alec Foster (2017), Farmville , NC
42-44--86
22
Travis Fletcher (2016), Belhaven, NC
47-57--104
T23
Nathan Norfleet (2018), Chapel Hill, NC
WD
Tucker Mooring (2016), Bath, NC
WD
Boys 15-16 (6673 yards, par 72, 71.1/123)
Place
Name
Score
T1
Nicholas Loy (2017), Greenville, NC
36-33--69
Patrick Carlin (2018), Raleigh, NC
33-36--69
T3
Chris Kim (2019), Cary, NC
36-36--72
Matthew Chandler (2018), Washington, NC
37-35--72
Wesley Bryant (2017), Nakina, NC
36-36--72
T6
Britt Stroud (2019), Raleigh, NC
31-42--73
Bryce Jones (2018), Goldsboro, NC
38-35--73
T8
Chandler Perry (2018), Clinton, NC
36-38--74
James Wiley (2018), Raleigh, NC
37-37--74
Matthew Hayes (2018), Clayton, NC
37-37--74
11
Addison Manring (2017), Stoneville, NC
37-38--75
T12
Alex Huml (2019), Cary, NC
37-39--76
Pierce Robinson (2019), Kings Mountain, NC
34-42--76
T14
Alex Casatelli (2018), Clayton, NC
39-38--77
Brady Hooks (2019), Clayton, NC
38-39--77
Brantley Moore (2017), Wilmington, NC
39-38--77
T17
Carter Rains (2018), Greenville , NC
37-41--78
Jeffrey Parker (2019), Oak Ridge, NC
38-40--78
Noah Kallam (2018), Clayton, NC
41-37--78
20
Justin Miller (2018), Wendell, NC
40-39--79
T21
Justin Poole (2017), Wendell, NC
42-38--80
Patrick Warnock (2018), Cary, NC
42-38--80
T23
Daniel Nunn (2018), Wake Forest, NC
39-42--81
Davis Fisher (2019), Greenville, NC
41-40--81
T25
Jack Towarnicky (2019), New Bern, NC
40-43--83
Joseph Bishop (2018), Greenville, NC
42-41--83
T27
Jake Burgess (2019), Wake Forest, NC
43-41--84
Kayden Roberts (2019), Cary, NC
41-43--84
Will Pruthi (2019), Durham, NC
41-43--84
T30
Nolan Parrish (2018), Salisbury, NC
44-43--87
Ryan Moss (2017), Rolesville, NC
41-46--87
T32
Alexander Conway (2019), Raleigh, NC
46-43--89
Jake Anthony (2019), Greenville, NC
39-50--89
T34
Kristopher Jackson (2019), Greenville, NC
49-42--91
Smith Brewer (2019), Raleigh, NC
43-48--91
36
Zachary Heath (2018), Winterville, NC
44-48--92
37
Seiya Furukawa (2018), Raleigh, NC
47-46--93
T38
Noah Green (2018), Apex, NC
51-44--95
Owen Jenkins (2018), Morehead City, NC
45-50--95
40
Matthew Griffin (2019), Winterville, NC
53-46--99
T41
Clay Stanley (2019), Greenville, NC
WD
Tyler Owens (2019), Cary, NC
WD
Boys 13-14 (6189 yards, par 72, 68.9/119)
Place
Name
Score
1
Will Hawley (2019), Raleigh, NC
35-36--71
2
Carter Boulia (2019), Cary, NC
37-36--73
3
Ethan Hall (2019), Morehead City, NC
36-39--75
T4
Eston Lee (2020), Four Oaks, NC
40-36--76
Jackson Crocker (2020), Kinston, NC
38-38--76
6
David Langley (2020), Winterville, NC
39-39--78
T7
Colton Danks (2020), Roseboro, NC
40-39--79
Will Mitchell (2020), Raleigh, NC
41-38--79
9
Blake Hess (2021), Greenville, NC
42-40--82
10
Caleb Smyre (2021), Gastonia, NC
42-42--84
11
Simon Owens (2021), Tarboro, NC
43-44--87
12
William Lawrence (2021), Topsail Beach, NC
43-45--88
13
Andrew Gallagher (2021), Grimesland, NC
44-45--89
T14
Caeden Lyons (2021), Washington, NC
44-47--91
David Wiley (2020), Raleigh, NC
44-47--91
16
Colby Tant (2021), Chocowinity, NC
47-46--93
17
John Ward (2020), Charlotte, NC
48-46--94
Boys 11-12 (5685 yards, par 72, 66.4/111)
Place
Name
Score
1
Tyler Jones (2023), Jacksonville, NC
35-36--71
2
Hayes Mahoney (2022), Greenville, NC
40-41--81
3
Matthew Richardson (2022), Ayden, NC
39-44--83
4
Henry Pate (2022), Elizabethtown, NC
44-44--88
5
William Twilla (2022), Eden, NC
46-43--89
6
Samuel Warren (2023), Washington, NC
64-84--148
7
Quinlan Polin (2022), Cary, NC
WD
Girls 15-18 (5683 yards, par 72, 71.4/120)
Place
Name
Score
1
Amy Wooten (2018), Clinton, NC
35-36--71
2
Sarah Funderburg (2018), Wilmington, NC
38-36--74
3
Hailey Freedman (2018), Chapel Hill, NC
44-38--82
4
Caroline Bryant (2018), New Bern, NC
40-45--85
5
Katy Flax (2016), Wilmington, NC
44-42--86
6
Meghan McPeak (2017), Chapel Hill, NC
46-41--87
7
Grace Olmstead (2018), Four Oaks, NC
51-42--93
8
Kellie Boykin (2017), Wilson, NC
49-51--100
Girls 11-14 (5124 yards, par 72, 68.3/114)
Place
Name
Score
1
Grayson Warren (2021), Washington, NC
37-37--74
2
Trinity Ahing (2019), New Bern, NC
41-44--85
3
Julie Fiedler (2021), New Bern, NC
43-50--93
4
Elizabeth Ritchie (2019), Havelock, NC
49-48--97
10 & Under (Modified Stableford Scoring)
Place
Name
Score
1
Will Guidry (2024), Winterville, NC
33
2
Henry Lawrence (2024), Topsail Beach, NC
28
3
Carys Carson (2026), Greenville, NC
16