Pinecrest sweeps North State High School Challenge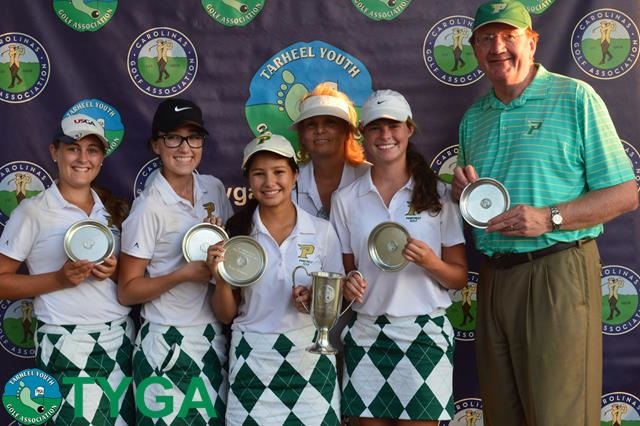 Pinecrest High School's Gold team of Pinehurst, NC repeated as winner of the North State High School Challenge at Keith Hills CC in Buies Creek, NC winning by 32 shots over Pinecrest High School's Green team. Pinecrest (Gold) was lead by freshman Jaclyn Kenzel of Southern Pines, NC who won the medalist award with a round of five over par 77. Pinecrest's Gold team placed all four players in the top eight of the individual scores. Senior Elizabeth Nguyen of Pinehurst, NC contributed a round of 79; Junior Mackenzie Battle of Aberdeen, NC finished with a round of 80 and Sophomore Lorin Wagler of Seven Lakes, NC shot a round of 83. New Bern HS of New Bern, NC finished in third place with a team score of 282.
This annual girls' high school tournament is conducted jointly by the Peggy Kirk Bell Girls' Tour and the Tarheel Youth Golf Association.
PKBGT-TYGA North State High School Challenge

Keith Hills CC (Orange-Black) Buies Creek, NC

September 15, 2016

Final Results

Team Results

Place

School

Score

1

Pinecrest HS (Gold), Pinehurst, NC

236

2

Pinecrest HS (Green), Pinehurst, NC

268

3

New Bern HS, New Bern, NC

282

4

South Johnston HS, Four Oaks, NC

311

5

Leesville Road HS, Raleigh, NC

318

6

Clayton HS, Clayton, NC

335

7

South Granville HS, Creedmoor, NC

337

8

West Johnston HS, Benson, NC

338

Individual Results

Place

Name

Score

1

Jaclyn Kenzel (2020), Southern Pines, NC, Pinecrest HS Gold

42-35--77

T2

Emily Hawkins (2018), Lexington, NC, Veritas Academy*

42-36--78

Kayla Ward (2018), Raleigh, NC, Garner HS*

36-42--78

T4

Elizabeth Nguyen (2017), Pinehurst, NC, Pinecrest HS Gold

39-40--79

Mogie Adamchik (2017), Raleigh, NC, Leesville Road HS

38-41--79

6

Mackenzie Battle (2018), Aberdeen, NC, Pinecrest HS Gold

41-39--80

7

Janie Gooch (2017), Raleigh , NC, Dailey Cross CA*

40-42--82

8

Lorin Wagler (2019), Seven Lakes, NC, Pinecrest HS Gold

40-43--83

T9

Haley McCrossan (2018), Waxhaw, NC, Marvin Ridge HS*

43-41--84

Nicole Kramer (2018), Charlotte, NC, Ardrey Kell HS*

41-43--84

11

Mara Hirtle (2020), Pinehurst, NC, Pinecrest HS Gold

40-45--85

12

Bailey Cooper (2019), Pinehurst, NC, Pinecrest HS Green

44-44--88

13

Trinity Ahing (2019), New Bern, NC, New Bern HS

41-48--89

T14

Kate Hawkins (2018), Littleton, NC, Halifax Academy*

45-46--91

Tylor Whitley (2017), Cary, NC, Garner HS*

46-45--91

T16

Caitlyn Seastrunk (2017), Raleigh, NC, East Wake Academy*

47-46--93

Meghan McPeak (2017), Chapel Hill, NC, Carrboro HS*

48-45--93

18

Caroline Bryant (2018), New Bern, NC, New Bern HS

42-52--94

19

Katie Ochoa (2018), Southern Pines, NC, Pinecrest HS Green

52-43--95

20

Sophie Woznichak (2017), Clayton, NC, Clayton HS

48-48--96

T21

Sydney Wheeless (2017), Benson, NC, South Johnston HS

48-49--97

Toni Blackwell (2020), Fayetteville , NC, Cape Fear HS*

50-47--97

T23

Grace Olmstead (2018), Four Oaks, NC, West Johnston HS

48-51--99

Lexi Locklear (2018), New Bern, NC, New Bern HS

48-51--99

25

Walker Sullivan (2018), Marvin, NC, Marvin Ridge HS*

54-47--101

26

Courtney Jingle (2018), Seven Lakes, NC, Pinecrest HS*

47-55--102

27

Mackenzie Honeycutt (2018), McGee's Crossroads, NC, South Johnston HS

48-55--103

28

Angela Morando (2018), Cape Carteret, NC, Croatan HS*

49-55--104

29

Taylor Davis (2019), New Bern, NC, New Bern HS

56-50--106

30

Claire Patrick (2018), Creedmoor, NC, South Granville HS

53-56--109

T31

Abbi Colclough (2017), Creedmoor, NC, South Granville HS

56-55--111

Anna Weaver (2017), Meadow, NC, South Johnston HS

56-55--111

33

Madyson Scott (2017), Clayton, NC, Clayton HS

58-54--112

34

Madeline St. Louis (2019), Raleigh, NC, Leesville Road HS

58-55--113

T35

Alyssa Barbour (2017), Benson, NC, West Johnston HS

55-62--117

Caylea Clark (2019), Creedmoor, NC, South Granville HS

61-56--117

37

Elizabeth Cox (2017), West End, NC, Pinecrest HS Green

57-64--121

38

Landry Connors (2019), Benson, NC, West Johnston HS

65-57--122

39

Erica Jacobson (2018), Raleigh, NC, Leesville Road HS

62-64--126

40

Allie Dunekack (2018), Clayton, NC, Clayton HS

59-68--127

41

Ashlyn Burns (2020), Creedmoor, NC, South Granville HS

64-70--134

42

Janie McLamb (2018), Benson, NC, South Johnston HS

76-80--156

Megan Britt (2017), Benson, NC, West Johnston HS

WD

Natalie Lutz (2019), Kings Mountain, NC, Kings Mountain HS*

WD

*Playing as an individual