Wotnosky and Herring Lead State Championship After Round 1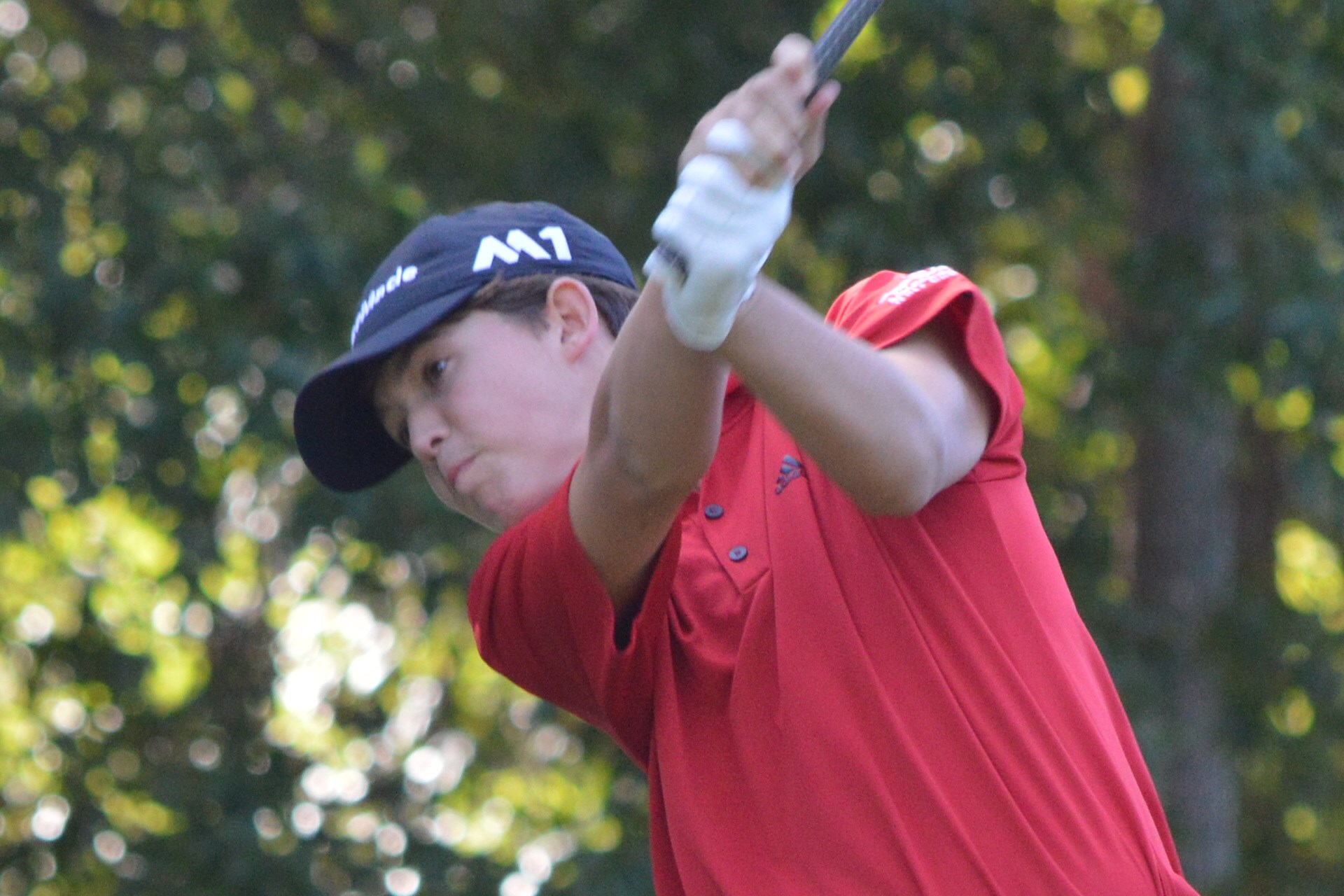 Haely Wotnosky of Wake Forest, NC and Jake Herring of Wilson, NC each lead their divisions after the first round of the 8th TYGA State Championship being conducted on the Orange and Black nines at Keith Hills GC in Buies Creek, NC.
Wotnosky, a home schooled senior who has committed to play college golf at the University of Virginia, shot a round of two under par 70 and leads the girls' division heading into Sunday's final round. Wotnosky got off to a slow start and was three over par through five holes, but settled down and birdied five of the last thirteen holes. Wotnosky has a six shot lead over Michelle Harn of Charlotte, NC and and eight shot advantage of Julie Fiedler of New Bern, NC.
In the boys' division, Herring, the 2017 NC Boys' 13 and Under Champion, finished with a two under par 70 and leads by two shots with 18 holes left to play. A trio of players sit tied for second that include Charlie Tate of Greensboro, NC, Daniel Adkins, II of Holly Springs, NC and Joey Pritchard of Whispering Pines, NC after rounds of even par 72. Ethan Hall of Morehead City, NC, Jackson Bode of Pinehurst, NC, Sam Davidson of Asheboro, NC and Thomas Deal of Cornelius, NC are four shots back at 74 and tied for fifth place.
This annual state junior tournament is conducted by the Tarheel Youth Golf Association, a division of the Carolinas Golf Association.
Round One Results
Girls' (5719 yards, par 72, 72.9/134)

Place

Name

Score

1

Haeley Wotnosky (2018), Wake Forest, NC

37-33--70

2

Michelle Harn (2019), Charlotte, NC

39-37--76

3

Julie Fiedler (2021), New Bern, NC

38-40--78

T4

Ryann Sinclair (2019), Mooresville, NC

40-39--79

Victoria Ladd (2019), Greensboro, NC

40-39--79

6

Lotte Fox (2020), Raleigh, NC

38-42--80

7

Maria Atwood (2022), Holly Springs, NC

39-43--82

T8

Harper Shepherd (2021), Greensboro, NC

42-41--83

McKenzie Daffin (2021), Fort Bragg, NC

38-45--83

10

Katelyn Kenthack (2020), Pinehurst, NC

42-42--84

11

Angelique Seymour (2019), Fayetteville, NC

42-43--85

12

Toni Blackwell (2020), Fayetteville , NC

47-39--86

T13

Elena Jacoby (2019), Huntersville, NC

43-44--87

Grace Holcomb (2021), Wilmington, NC

43-44--87

Grace Olmstead (2018), Four Oaks, NC

45-42--87

16

Halynn Lee (2021), Cary, NC

45-43--88

T17

Caroline Bryant (2018), New Bern, NC

46-43--89

Riya Modak (2021), Concord, NC

43-46--89

19

Ava Lucas (2021), Raleigh, NC

46-50--96

20

Grace Greene (2019), Apex, NC

45-52--97

21

Darby Reeder (2020), Smithfield, NC

52-52--104

Boys' (6625 yards, par 72, 71.9/131)

Place

Name

Score

1

Jake Herring (2021), Wilson, NC

35-35--70

T2

Charlie Tate (2018), Greensboro, NC

35-37--72

Daniel Adkins II (2021), Holly Springs, NC

36-36--72

Joey Pritchard (2020), Whispering Pines, NC

38-34--72

T5

Ethan Hall (2019), Morehead City, NC

39-35--74

Jackson Bode (2022), Pinehurst, NC

37-37--74

Sam Davidson (2020), Asheboro, NC

39-35--74

Thomas Deal (2018), Cornelius, NC

37-37--74

T9

Andrew Plate (2021), Greensboro, NC

38-37--75

Charlie Barr (2021), Salisbury, NC

38-37--75

Colin Dutton (2021), Foxfire, NC

37-38--75

Jack Towarnicky (2019), New Bern, NC

37-38--75

Kareem Elkassem (2023), Raleigh , NC

39-36--75

Luke Gossert (2019), Matthews, NC

35-40--75

T15

Carter Cheek (2018), Cary, NC

38-38--76

Eston Lee (2020), Four Oaks, NC

39-37--76

Pierce Robinson (2019), Kings Mountain, NC

38-38--76

T18

Ayush Bodhale (2021), Huntersville, NC

37-40--77

Carter Boulia (2019), Cary, NC

38-39--77

Harrison Wierse (2019), Wilmington, NC

40-37--77

Logan Patrick (2020), Dunn, NC

40-37--77

Rob Salisbury (2019), Winston-Salem, NC

40-37--77

23

Sam Nester (2019), Mount Airy, NC

40-38--78

T24

Garrett Risner (2020), Holly Springs, NC

41-38--79

Landon Barnes (2020), Pilot Mountain, NC

42-37--79

T26

Pearse Lucas (2021), Charlotte, NC

40-40--80

Ryan Macri (2021), Wake Forest, NC

42-38--80

Trey Pope (2018), Clinton, NC

42-38--80

T29

Andrew Wood (2019), Greensboro, NC

43-38--81

Clayson Good (2020), Durham, NC

41-40--81

31

Jared Clontz (2019), Nebo, NC

40-42--82

T32

Branden Boyce (2021), Spring Lake, NC

41-42--83

Cameron Brown (2020), Coats, NC

43-40--83

Luke Perrino (2020), Mooresville, NC

43-40--83

Parker Shimp (2021), Charlotte, NC

42-41--83

T36

Ashwath Kapilavai (2021), Cary, NC

45-39--84

Bryce Hull (2018), Hickory, NC

41-43--84

Owen Swavely (2019), Mooresville, NC

42-42--84

T39

Alex Bowers (2018), Blowing Rock, NC

44-41--85

Benjamin Collins (2020), Holly Springs, NC

44-41--85

Evan Marion (2018), Mount Airy, NC

43-42--85

Mitchell Tanis (2020), Pineville, NC

38-47--85

Travon Willis (2018), Indian Trail, NC

44-41--85

Zach Gilbert (2019), Davidson, NC

40-45--85

T45

Brodie McFadden (2022), Holly Springs, NC

44-42--86

Coston Fogleman (2018), Hillsborough, NC

44-42--86

Sterling Mace (2021), Southern Pines, NC

43-43--86

T48

Casey Osiecki (2020), New Bern, NC

43-44--87

Garrett Hauk (2021), Burlington, NC

42-45--87

T50

Colton Danks (2020), Roseboro, NC

44-44--88

Jack Burris (2021), Greensboro, NC

45-43--88

Ryan Bradley (2020), Cary, NC

43-45--88

53

Parker Truesdale (2020), Canton, NC

44-45--89

T54

Jason Moore (2019), Pilot Mountain, NC

45-45--90

Justin Nagy (2021), Apex, NC

44-46--90

56

Alex Gould (2022), Greensboro, NC

45-47--92

57

Zach Heath (2018), Winterville, NC

48-45--93

58

Aidan Harrington (2021), Garner, NC

42-52--94

59

Calvin Chu (2020), Cary, NC

53-43--96

T60

Barrett Holmes (2018), Hampstead, NC

54-44--98

Joseph Tewksbury (2020), Greensboro, NC

51-47--98

62

Zackery Brayboy (2019), Maxton, NC

54-45--99

63

David Xu (2020), Cary, NC

52-51--103

64

Leo Doak (2020), Apex, NC

53-52--105

65

Aaron Rowland (2018), Raleigh, NC

52-55--107

Casey Charbonneau (2018), Four Oaks, NC

WD

Kayden Roberts (2019), Cary, NC

WD

Kyle Kushnir (2021), Raleigh, NC

WD