College Golf Night Set for December 28th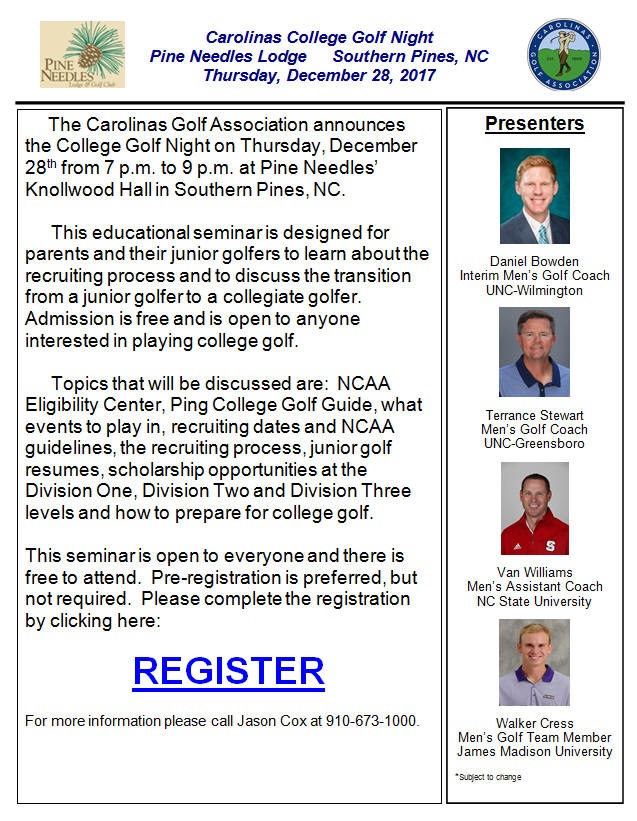 The Carolinas Golf Association announces the College Golf Night on Thursday, December 28th from 7 p.m. to 9 p.m. at Pine Needles' Knollwood Hall in Southern Pines, NC.
This educational seminar is designed for parents and their junior golfers to learn about the recruiting process and to discuss the transition from a junior golfer to a collegiate golfer. Admission is free and is open to anyone interested in playing college golf.
Topics that will be discussed are: NCAA Eligibility Center, Ping College Golf Guide, what events to play in, recruiting dates and NCAA guidelines, the recruiting process, junior golf resumes, scholarship opportunities at the Division One, Division Two and Division Three levels and how to prepare for college golf.
This seminar is open to everyone and there is free to attend. Pre-registration is preferred, but not required. Please complete the registration by clicking here:
For more information please call Jason Cox at 910-673-1000.