2nd Archdale-Trinity Chamber Junior Dates Set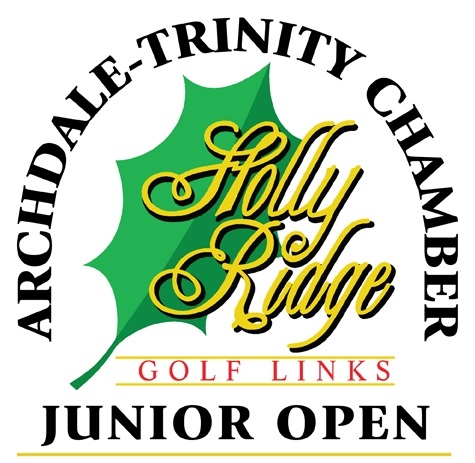 The Tarheel Youth Golf Association and the Archdale-Trinity Chamber of Commerce are pleased to announce that Holly Ridge Golf Links will host the 2nd Archdale-Trinity Junior Open on March 17-18, 2018. The event will be a 36-hole stroke play tournament for boys and girls ages 13-18 from the state of North Carolina.
Conveniently located just minutes from High Point, Greensboro, Winston-Salem, and Asheboro; Holly Ridge Golf Links continues to lead the way in challenging, affordable golf in the Triad. The course was designed by Jim Bivins, and subsequently opened for public play in 1994. From the Championship Tees, the picturesque Par-72 layout can be stretched to 6,626 yards. In 2009, the decision was made to make the transformation to Champion Bermuda Greens, thus making Holly Ridge Golf Links one of the area's pioneer courses in this regard. From the time of their implementation, the greens at 'The Ridge' have consistently proven to be the signature mark of the facility. Once accompanied by the beautiful rolling mounds, and precisely sculpted fairways, it becomes clearly evident as to why Holly Ridge Golf Links is one of the Triad's most sought after courses to play.
DATES
March 17-18, 2018
ELIGIBILITY
Entry is open to any female and male amateur golfer ages 13 to 18 as of March 18, 2018, who has not started college and is a legal resident of North Carolina.
FORMAT
The championship is conducted at 36-holes of individual stroke play.
SCHEDULE OF EVENTS
Saturday, March 17
11:00 am - 1:00 pm Player registration
12:00 pm - 2:00 pm Round 1 starting times off #1 and #10
5:00 pm - 7:30 pm Tournament Cookout
Players and parents welcome
Sunday, March 18
12:00 pm - 2:00 pm Round 2 starting times off #1 and #10
7:00 pm Awards presentation

DIVISIONS
Boys will compete in three age divisions; boys 13-14, boys 15-16 and boys 17-18. Girls will compete in one division.
PRIZES
Trophies are awarded to the top five positions in each division.
BOYS' EXEMPTIONS
The top 10 in the overall (all boys' divisions combined) will receive exemptions into the 51st NC Junior Boys and the 13th Dogwood Junior Championship. The top 5 in the overall will receive an exemption into the 6th Creed Boys' Invitational and the 69th Carolinas Junior Boys' Championship.
GIRLS' EXEMPTIONS
The top 5 girls in the overall will receive exemptions in to the 13th Vicki DiSantis Girls' Championship. Exemptions are awarded based on overall results and not to each age division.
ENTRY FEE
$125 covers tournament rounds, cookout, tournament gift and awards.
REGISTRATION
Players may register beginning on February 5, 2018 at 8 pm.
ACCEPTANCE
Players gain entry on a first come first serve basis. Field is limited to 84 players (60 boys and 24 girls).