Kuehn and Bhatia Named N.C. Junior Players of the Year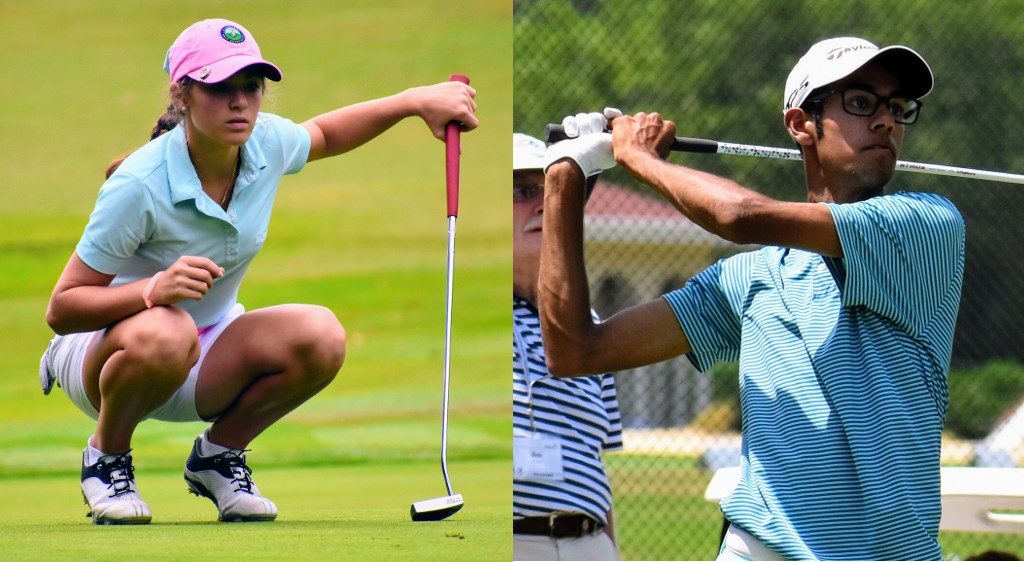 North Carolina junior golf's best honored by the Tarheel Youth Golf Association and the Carolinas Golf Association
SOUTHERN PINES, N.C. (January 3, 2018) -- Rachel Kuehn of Asheville, N.C. and Akshay Bhatia of Wake Forest, N.C. have been named the 2017 N.C. Junior Players of the Year by the Tarheel Youth Golf Association (TYGA) and the Carolinas Golf Association (CGA). The North Carolina Junior Player of the Year award recognizes one girl and one boy who had the most successful year in amateur and junior golf events at the local, state, regional, and national levels.

Related: Past N.C. Junior Players of the Year

Kuehn, a 16-year-old junior at The Asheville School, won four tournaments in 2017 including the Carolinas Women's Amateur where she came from behind to win over a field that included some the best women amateurs in the Carolinas. Kuehn also won the Bubba Conlee Junior, the NCISAA Girls' State Championship, and the Peggy Kirk Bell Girls' Tour Tournament of Champions. In the 15 events Kuehn played, she placed in the top 15 eleven times and finished with a tournament stroke average of 73.38. "Rachel has that "it' factor. She is so bubbly and personable, but when the bell rings she is ready to play," said her instructor Rickey Sullivan, the Director of Instruction at Bulls Bay in Awendaw, S.C. "Her work effort is through the roof. Just an awesome person on and off the golf course, " added Sullivan. Kuehn has verbally committed to play college golf at Wake Forest University.
Bhatia, a 16-year-old homeschooled sophomore, won the PGA Junior Boys' Championship along with Joe Cheves Junior and four other junior golf tournaments. Bhatia finished outside the top ten only four times in the 15 junior tournaments he played and averaged 70.74 per round in tournament play. In September, Bhatia was selected to represent the United States of America in the Junior Presidents Cup where he won three matches and helped the Americans to a 14-10 victory. "Akshay works extremely hard and with the confidence he has in his game, it is no surprise he has been so successful," said Bhatia's swing instructor Chase Duncan.

Player of the Year awards are determined by a combination of each player's tournament scoring differential and the total points earned in the TYGA N.C. ranking's events from January 1 through December 31, 2017. Players who have not yet graduated from high school are eligible.

These outstanding juniors, along with the 2017 N.C. All-State Girls' and Boys' teams, will be honored at the North Carolina Junior Golf Night Awards Banquet on Saturday, January 27, 2018 at Pine Needles Resort in Southern Pines, NC.


Follow @tygagolf on Twitter for updates on junior golf in North Carolina.


About the Tarheel Youth Golf Association (TYGA)

The Tarheel Youth Golf Association, a division of the Carolinas Golf Association, a 501(c) 3 organization, provides playing opportunities for its members, conducts educational seminars and events, acts as a junior golf informational clearinghouse, provides free USGA handicaps to junior golfers in North Carolina, recruits sponsor clubs that grant junior access to golf facilities in North Carolina, publishes monthly North Carolina junior rankings, and awards Junior Player of the Year and All-State awards to the top juniors in North Carolina. Membership is open to any boy or girl who is a legal resident of N.C.; 18 years of age and under; and have not started college.

--30--