Topiwal and Heath Take TYGA State Titles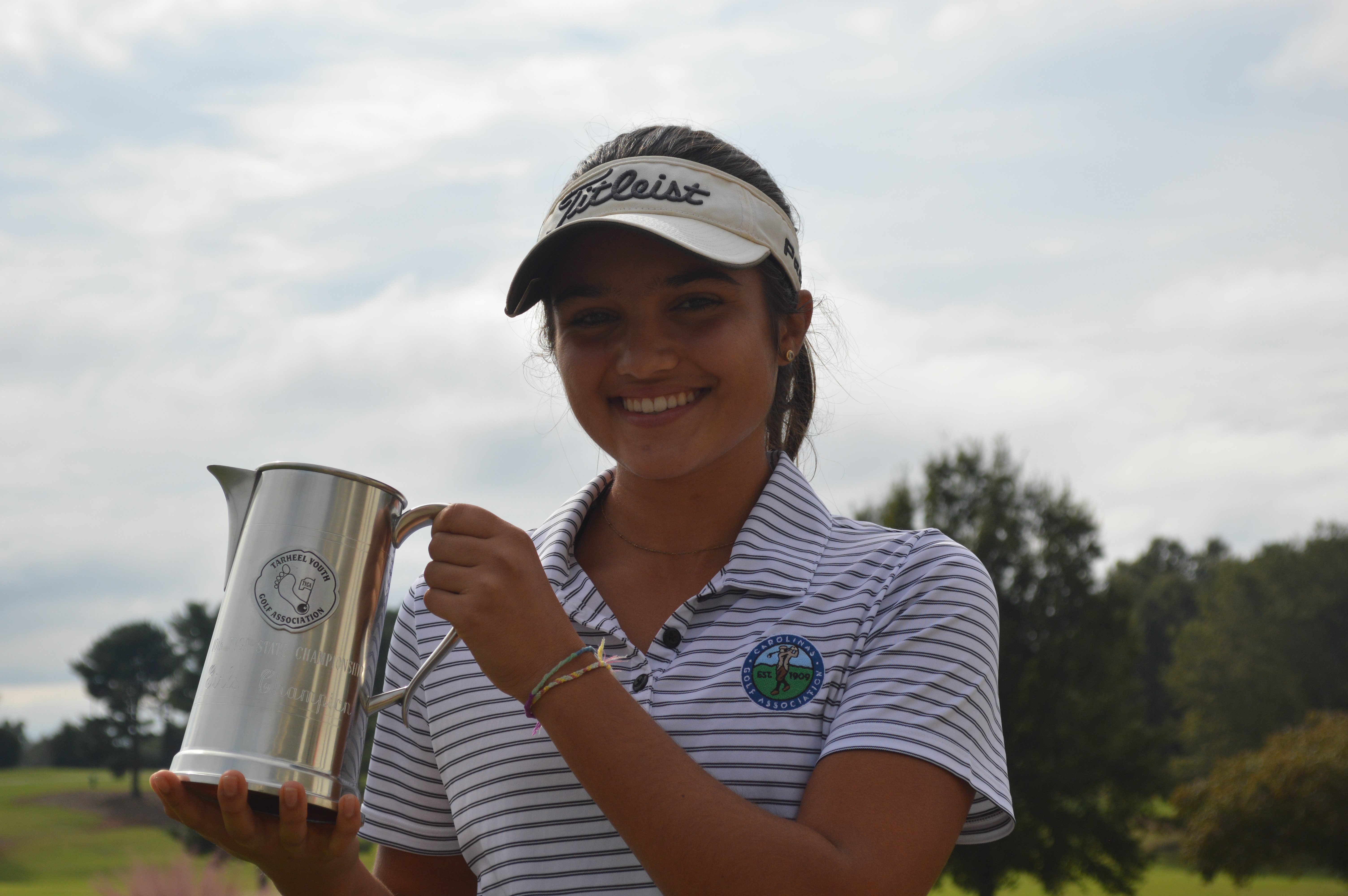 Final result from the TYGA State Championship at Colonial Country Club (Boys- 6,641 yards, par 36-35--71, 71.5/124, Girls - 5,669 yards, par 36-35--71, 72.6/129) in Thomasville, NC on Saturday and Sunday, October 13-14, 2018.
Kelley Topiwala of Charlotte, NC and Jack Heath of Charlotte, NC won the their division in the 10th TYGA State Championship. Topiwala, a high school junior, shot a final round of four under par 67 and finished with a total of three over par 145 to win the girls division by three shots over first round leader Muskan Uppal of Cornelius, NC. Macy Pate of Boone, NC finished in third place with a two day total of 156.
In the boys' division, Heath, a high school junior, and overnight leader Todd Moyer of Cornelius, NC both finished 36-holes with a total of three over 145. Heath secured the victory with a par on the first playoff hole. NC Middle School champion Kareem Elkassem of Raleigh, NC, Luke Perrino of Mooresville, NC and Jackson Brimfield of Chapel Hill, NC all tied for third place with totals of four over par 146.
This annual junior golf tournament is conducted by the Tarheel Youth Golf Association, a division of the Carolinas Golf Association.
Girls' Division ( 5,669 yards, par 36-35--71, 72.6/129)

Place

Player

City, State-Class

Round One

Round Two

Total

To Par

1

Kelley Topiwala

Charlotte, NC-2020

78

67

145

3

2

Muskan Uppal

Cornelius, NC-2019

74

74

148

6

3

Macy Pate

Boone, NC-2023

76

80

156

14

4

Ryann Sinclair

Mooresville, NC-2019

79

81

160

18

5

Anna Howerton

Kernersville, NC-2023

79

85

164

22

6

Becca Connolly

Winston-Salem, NC-2020

85

81

166

24

7

Ashton Gupton

Smithfield, NC-2021

83

86

169

27

8

Camille Oliver

Cary, NC-2022

91

102

193

51

Boys' Division (6,641 yards, par 36-35--71, 71.5/124

Place

Player

City, State-Class

Round One

Round Two

Total

To Par

1

*Jack Heath

Charlotte, NC-2020

73

72

145

3

2

Todd Moyer

Cornelius, NC-2021

72

73

145

3

T3

Kareem Elkassem

Raleigh, NC-2023

73

73

146

4

T3

Luke Perrino

Mooresville, NC-2020

75

71

146

4

T3

Jackson Brimfield

Chapel Hill, NC-2021

74

72

146

4

6

Zach Roberts

Holly Springs, NC-2020

73

74

147

5

T7

Casey Osiecki

New Bern, NC-2020

74

74

148

6

T7

Daniel Adkins

Holly Springs, NC-2021

75

73

148

6

T7

Tyler Dechellis

Clayton, NC-2021

73

75

148

6

T7

Clayson Good

Durham, NC-2020

76

72

148

6

T7

Eston Lee

Four Oaks, NC-2020

78

70

148

6

T7

Garrett Risner

Holly Springs, NC-2020

77

71

148

6

T7

Zach Gilbert

Davidson, NC-2019

73

75

148

6

T14

Andrew Plate

Greensboro, NC-2021

75

74

149

7

T14

Ayush Bodhale

Huntersville, NC-2021

76

73

149

7

T14

Chase Clayton

Locust, NC-2019

74

75

149

7

T14

Parker Truesdale

Canton, NC-2020

78

71

149

7

18

Brandon Spinks

Huntersville, NC-2021

75

75

150

8

T19

Bo Bolick

High Point, NC-2020

75

76

151

9

T19

Caden Baker

Mebane, NC-2021

78

73

151

9

T21

Henry Pate

Elizabethtown, NC-2022

77

75

152

10

T21

Joey Pritchard

Pinehurst, NC-2020

77

75

152

10

T23

Blake Brantley

Winston-Salem, NC-2020

78

75

153

11

T23

Luke Cashion

Waxhaw, NC-2020

76

77

153

11

T23

Michael LaSasso

Raleigh, NC-2022

79

74

153

11

T23

Sam Davidson

Asheboro, NC-2020

74

79

153

11

T27

Owen Kose

Holly Springs, NC-2022

77

77

154

12

T27

Benjamin Collins

Holly Springs, NC-2020

79

75

154

12

T29

Columb Knight

Raleigh, NC-2020

76

79

155

13

T29

Bennett Fant

Winston-Salem, NC-2021

81

74

155

13

31

Zach Green

Asheboro, NC-2020

80

76

156

14

T32

Junye Ou

Shelby, NC-2019

79

78

157

15

T32

Branden Boyce

Spring Lake, NC-2021

81

76

157

15

T32

Phillip Clifton

Winston Salem, NC-2020

82

75

157

15

T35

Jack Burris

Greensboro, NC-2021

79

79

158

16

T35

Grady Newton

Winston Salem, NC-2019

80

78

158

16

T35

Luke Michael

Trinity, NC-2020

82

76

158

16

T38

Jack Hart

Charlotte, nc-2020

79

80

159

17

T38

Bradley Davis, Jr.

Pilot Mountain, NC-2022

81

78

159

17

T40

Benjamin Bailey

Huntersville, NC-2021

79

81

160

18

T40

Calvin Hawkins

Lexington, NC-2022

79

81

160

18

T40

Jacob Pendry

Lexington, NC-2020

83

77

160

18

T43

Garrett Hauk

Burlington, NC-2021

82

79

161

19

T43

Chris Poor

Marvin, NC-2019

80

81

161

19

45

Sam Nester

Mount Airy, NC-2019

81

81

162

20

T46

Ashwath Kapilavai

Cary, NC-2021

85

78

163

21

T46

Andrew Wood

Greensboro, NC-2019

82

81

163

21

T48

Brodie McFadden

Holly Springs, NC-2022

87

77

164

22

T48

Sean Finan

Winston Salem, NC-2022

86

78

164

22

T48

Dylan Smith

Cornelius, NC-2020

86

78

164

22

T48

Logan Fant

Winston-Salem, NC-2021

86

78

164

22

52

Alex Gould

Greensboro, NC-2022

90

75

165

23

T53

Grayson Kirkman

Winston Salem, NC-2019

79

87

166

24

T53

Hogan Kohl

Greensboro, NC-2020

83

83

166

24

T55

Davis DeLille

High Point, NC-2022

90

79

169

27

T55

John Logan

Wilmington, NC-2022

86

83

169

27

T55

Hogan Nance

Monroe, NC-2019

83

86

169

27

58

Cayden Bryner

Winston Salem, NC-2022

88

82

170

28

59

Daniel Jones

Greensboro, NC-2021

88

86

174

32

T60

Andrew Haarlow

Greensboro, NC-2021

81

94

175

33

T60

Logan Atkins

Dunn, NC-2023

86

89

175

33

T60

Leo Doak

Apex, NC-2020

90

85

175

33

63

Kenny Walter

Concord, NC-2020

82

94

176

34

64

Nicholas Janetta

Greensboro, NC-2020

89

90

179

37

T65

Christian Beck

Apex, NC-2021

95

90

185

43

T65

Colby Gunter

Reidsville, NC-2023

100

85

185

43

67

Tom Doak

Apex, NC-2021

88

100

188

46

68

Aedan Barnes

Charlotte, NC-2023

103

91

194

52

69

Samanyu Bedi

Charlotte, NC-2023

98

102

200

58

70

Michael Skeen

High Point, NC-2022

105

98

203

61

WD

Brantley Phillips

Locust, NC-2019

74

WD

WD

-

*Winner on first playoff hole