TYGA Coastal Plains Junior Final Results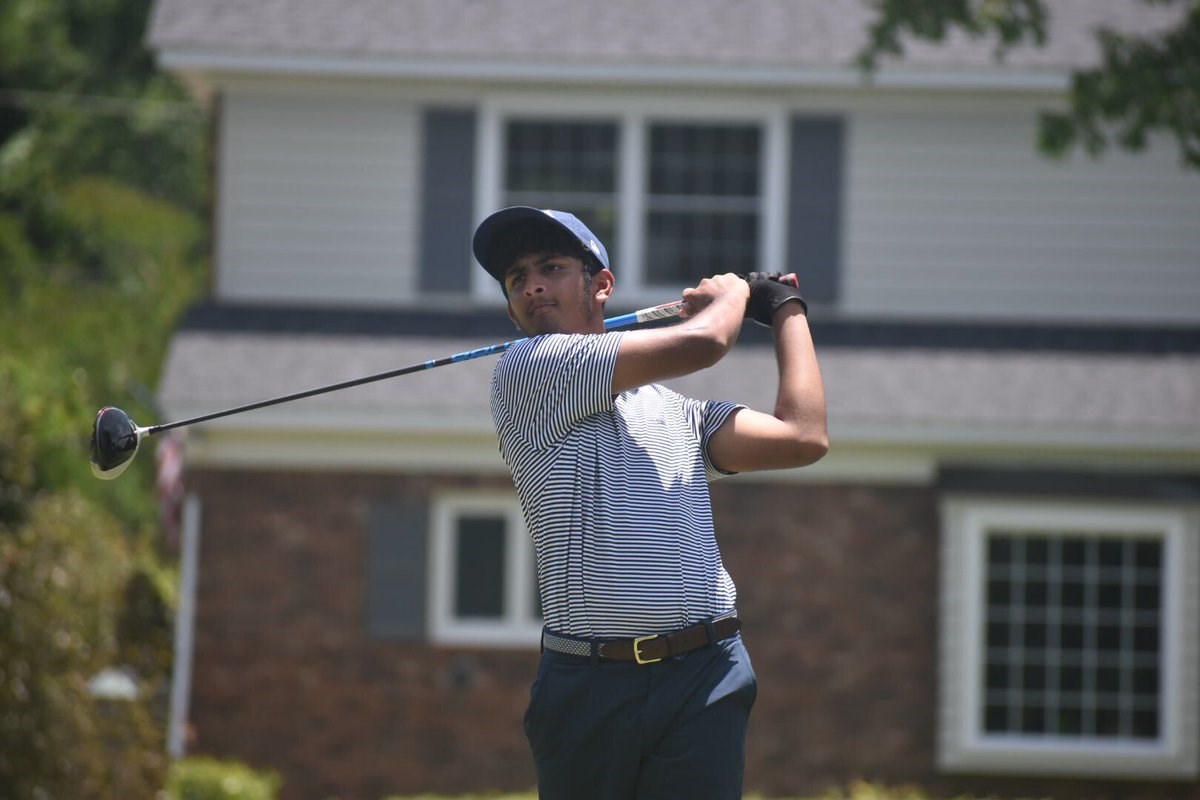 TYGA Coastal Plains Junior
Greenville CC - Greenville, NC
June 18-19, 2019
Final Results
After five playoff holes, Ayush Bodhale of Cornelius, N.C. is the winner of the TYGA Coastal Plains Junior Boys' Amateur tournament.
Bodhale entered round two five strokes behind round one leader, Carter Rains of Greenville, N.C. and three strokes behind Caleb Kimbrough of New Bern, N.C. His absence from the lead group did not stop his determination to reach to the top.
Bodhale's steady front nine with a birdie and all pars easily put him in a better position to contest his opponents as he made the turn at one-under-par, 34; three strokes behind Kimbrough.
"Yesterday a lot of things didn't go my way. I wasn't making a lot of putts and I still managed to pull through but today I knew I had to keep playing" said Bodhale.
Kimbrough tried to hold his own with an eagle on the 17th hole despite his two bogeys on the back nine while Bodhale got his momentum going with four birdies in his first five holes on the back nine and a final birdie on the 18th hole to go into a playoff tied for first place.
"Today I just focused on hitting greens and not making the silly mistakes. I was really happy. Its the best round of my life. I went bogey free and hit 17 greens which is six more than yesterday" said Bodhale.
Competition got stronger with a playoff on the 18th hole three times and the 1st and 17th holes once. Bodhale's tap in 3 feet approach shot sealed the win against Kimbrough who finished with a par.
Trinity Ahing of New Bern, N.C. was the overall girls champion with two solid rounds of four-over-par, 75; 153. Toni Blackwell of Fayetteville, N.C. was the runner up three strokes behind Ahing with scores of 78, 75 153.
Ethan Boyette of Wilson, N.C. was elated with his 1st place performance in the boys 14-15 category.
"I'm really proud of my putting; five foot putts were really strong. I really stayed with the process and didn't think about outcome too much and I think that's one of the things that brought me to victory this week" said Ethan.
Tarheel Youth Golf Association and Carolinas Golf Association would like to thank the members and staff of Greenville Country Club for hosting this event. The tournament would not be possible without their dedication and hard work. A special thank you to Andrea Pinner, General Manager and Rob Farmer, Head Golf Professional.
Girls' Overall (5,633 yards, par 71, 73.6/131)

Place

Name

Round1

Round2

Total

1

Trinity Ahing, New Bern, NC-2020

75

75

150

2

Toni Blackwell, Fayetteville, NC-2020

78

75

153

3

Annabelle Jennings, Chesapeake, VA-2020

78

77

155

4

Julie Fiedler, New Bern, NC-2021

84

79

163

5

Madelyn Vogan, New Bern, NC-2023

84

82

166

6

Jenna Rutledge, Beaufort, NC-2022

87

91

178

7

Emily Matthews, Swansboro, NC-2022

88

95

183

8

Georgia Dawson, Cove City, NC-2020

90

95

185

9

Grace Allen, Matthews, NC-2022

114

119

233

Girls' 12-15 (5,633 yards, par 71, 73.6/131)

Place

Name

Round1

Round2

Total

1

Madelyn Vogan, New Bern, NC-2023

84

82

166

2

Jenna Rutledge, Beaufort, NC-2022

87

91

178

3

Emily Matthews, Swansboro, NC-2022

88

95

183

4

Grace Allen, Matthews, NC-2022

114

119

233

Girls' 16-18 (5,633 yards, par 71, 73.6/131)

Place

Name

Round1

Round2

Total

1

Trinity Ahing, New Bern, NC-2020

75

75

150

2

Toni Blackwell, Fayetteville, NC-2020

78

75

153

3

Annabelle Jennings, Chesapeake, VA-2020

78

77

155

4

Julie Fiedler, New Bern, NC-2021

84

79

163

5

Georgia Dawson, Cove City, NC-2020

90

95

185

Boys' Overall (6,237 yards, par 71, 70.5/128)

Place

Name

Round1

Round2

Total

1

*Ayush Bodhale, Cornelius, NC-2021

73

66

139

2

Caleb Kimbrough, New Bern, NC-2019

70

69

139

T3

David Langley, Winterville, NC-2020

73

72

145

T3

Matthew Kyle Griffin, Winterville, NC-2019

72

73

145

T3

Carter Rains, Greenville, NC-2019

68

77

145

T3

Luke Nelson, Raleigh, NC-2020

74

71

145

T3

Kris Jackson, Greenville, NC-2019

71

74

145

8

Bryan Fang, Raleigh, NC-2023

74

72

146

T9

Casey Osiecki, New Bern, NC-2020

75

72

147

T9

Andrew Gallagher, Grimesland, NC-2022

71

76

147

T11

Drew Greene, Greenville, NC-2023

72

76

148

T11

Brian Wei, Raleigh, NC-2022

75

73

148

T13

Cameron Hardison, Greenville, NC-2022

72

77

149

T13

David Wiley, Raleigh, NC-2020

73

76

149

T15

Davis Fisher, Greenville, NC-2019

76

74

150

T15

Tyler Jones, Jacksonville, NC-2023

75

75

150

T15

Tate Bowyer, Wilmington , NC-2022

75

75

150

T15

Kunakorn Tang, Raleigh, NC-2022

73

77

150

T19

Matthew Richardson, Ayden, NC-2022

72

79

151

T19

Adam Hathaway, Greenville, NC-2020

75

76

151

T19

Ryan Bradley, Cary, NC-2020

76

75

151

T22

Jacob Girouard, Raleigh, NC-2020

77

76

153

T22

Jack Webster, Raleigh, NC-2023

80

73

153

T22

Gray Mitchum, Winterville, NC-2022

77

76

153

T22

Christian Conway, Raleigh, NC-2022

75

78

153

T26

Jace Butcher, Wake Forest, NC-2023

78

76

154

T26

Carson Hathaway, Winterville, NC-2022

81

73

154

T26

Caleb Jarman, Clayton, NC-2020

78

76

154

29

James Baldauf, Apex, NC-2021

76

79

155

30

Nick Thompson, Laurinburg, NC-2019

80

76

156

31

Milan Minto, Greenville, NC-2020

84

73

157

T32

Robert Allen, Greenville, NC-2020

81

77

158

T32

Caeden Lyons, Washington, NC-2021

80

78

158

T32

Hayes Mahoney, Greenville, NC-2022

79

79

158

T32

Myles Patterson, Durham, NC-2021

83

75

158

T36

Kyle Haas, Winston Salem, NC-2023

80

79

159

T36

Matthew Messenger, Raleigh , NC-2021

85

74

159

T36

Aidan Harrington, Garner, NC-2021

75

84

159

T39

Nathan O'Neal, Wilson, NC-2023

82

78

160

T39

Stewart Kinlaw, Wilmington, NC-2022

79

81

160

T41

Ryan Jahr, Ocean Isle Beach, NC-2022

76

85

161

T41

Travis Gallup, Greenville, NC-2025

81

80

161

T41

Blake Hess, Greenville, NC-2021

80

81

161

T41

Colby Tant, Greenville, NC-2021

78

83

161

T41

Austin Wood, Greenville, NC-2019

81

80

161

T41

Luke Keel, Greenville, NC-2021

81

80

161

47

Colton Danks, Roseboro, NC-2020

85

78

163

48

Shawn Matthews, Clinton, NC-2020

87

77

164

49

Holden Lee, Kenly, NC-2020

82

83

165

50

Drew O'Neal, Wilson, NC-2023

85

82

167

51

Dylan Workman, Wilmington, NC-2023

82

86

168

52

Finn Jarrell, Wake Forest, NC-2020

82

87

169

53

Noah Whitley, Colerain, NC-2022

84

86

170

54

Brodie McFadden, Holly Springs, NC-2022

83

88

171

T55

Brycen Swain, Durham, NC-2021

82

90

172

T55

Donald Maddox, Durham, NC-2020

94

78

172

T55

Andrew Brown, Newsoms, VA-2022

82

90

172

58

Trey Branch, Chocowinity, NC-2019

82

92

174

59

Davis Miller, Greenville, NC-2021

92

86

178

60

King Carter, Waxhaw, NC-2023

91

89

180

61

Ben Wilborn, Zebulon, NC-2020

96

89

185

62

Josh Miller, Nashville, NC-2022

96

92

188

63

Simon Owens, Tarboro, NC-2021

98

95

193

64

Will D'Alonzo, Greenville, NC-2023

103

114

217

Daniel Adkins, Holly Springs, NC-2021

82

WD

WD

*Winner on 6th playoff hole

Boys' 12-13 (5,633 yards, par 71, 67.9/123)

Place

Name

Round1

Round2

Total

1

Ethan Boyette, Wilson, NC-2024

75

74

149

2

Will Guidry, Winterville, NC-2024

76

74

150

3

Hudson Schulze, Charlotte, NC-2025

74

77

151

4

Lake Williams, Greenville, NC-2025

79

79

158

5

JP Wagner, Cary, NC-2025

84

81

165

6

Jack Wiley, Wake Forest, NC-2024

90

86

176

7

Hank Adams, Greenville, NC-2024

98

89

187

8

Wells Mahoney, Greenville, NC-2024

98

109

207

9

Henry Walter, Greenville, NC-2024

114

99

213

Boys' 14-15 (6,237 yards, par 71, 70.5/128)

Place

Name

Round1

Round2

Total

1

Bryan Fang, Raleigh, NC-2023

74

72

146

T2

Drew Greene, Greenville, NC-2023

72

76

148

T2

Brian Wei, Raleigh, NC-2022

75

73

148

4

Cameron Hardison, Greenville, NC-2022

72

77

149

T5

Tyler Jones, Jacksonville, NC-2023

75

75

150

T5

Tate Bowyer, Wilmington , NC-2022

75

75

150

T5

Kunakorn Tang, Raleigh, NC-2022

73

77

150

8

Matthew Richardson, Ayden, NC-2022

72

79

151

T9

Jack Webster, Raleigh, NC-2023

80

73

153

T9

Gray Mitchum, Winterville, NC-2022

77

76

153

T9

Christian Conway, Raleigh, NC-2022

75

78

153

T12

Jace Butcher, Wake Forest, NC-2023

78

76

154

T12

Carson Hathaway, Winterville, NC-2022

81

73

154

T14

Hayes Mahoney, Greenville, NC-2022

79

79

158

T14

Myles Patterson, Durham, NC-2021

83

75

158

16

Kyle Haas, Winston Salem, NC-2023

80

79

159

T17

Nathan O'Neal, Wilson, NC-2023

82

78

160

T17

Stewart Kinlaw, Wilmington, NC-2022

79

81

160

T19

Ryan Jahr, Ocean Isle Beach, NC-2022

76

85

161

T19

Travis Gallup, Greenville, NC-2025

81

80

161

21

Drew O'Neal, Wilson, NC-2023

85

82

167

22

Dylan Workman, Wilmington, NC-2023

82

86

168

23

Noah Whitley, Colerain, NC-2022

84

86

170

24

Andrew Brown, Newsoms, VA-2022

82

90

172

25

King Carter, Waxhaw, NC-2023

91

89

180

26

Josh Miller, Nashville, NC-2022

96

92

188

27

Will D'Alonzo, Greenville, NC-2023

103

114

217

Boys' 16-18 (6,237 yards, par 71, 70.5/128)

Place

Name

Round1

Round2

Total

1

Ayush Bodhale, Cornelius, NC-2021

73

66

139

2

Caleb Kimbrough, New Bern, NC-2019

70

69

139

T3

David Langley, Winterville, NC-2020

73

72

145

T3

Matthew Kyle Griffin, Winterville, NC-2019

72

73

145

T3

Carter Rains, Greenville, NC-2019

68

77

145

T3

Luke Nelson, Raleigh, NC-2020

74

71

145

T3

Kris Jackson, Greenville, NC-2019

71

74

145

T8

Casey Osiecki, New Bern, NC-2020

75

72

147

T8

Andrew Gallagher, Grimesland, NC-2022

71

76

147

10

David Wiley, Raleigh, NC-2020

73

76

149

11

Davis Fisher, Greenville, NC-2019

76

74

150

T12

Adam Hathaway, Greenville, NC-2020

75

76

151

T12

Ryan Bradley, Cary, NC-2020

76

75

151

14

Jacob Girouard, Raleigh, NC-2020

77

76

153

15

Caleb Jarman, Clayton, NC-2020

78

76

154

16

James Baldauf, Apex, NC-2021

76

79

155

17

Nick Thompson, Laurinburg, NC-2019

80

76

156

18

Milan Minto, Greenville, NC-2020

84

73

157

T19

Robert Allen, Greenville, NC-2020

81

77

158

T19

Caeden Lyons, Washington, NC-2021

80

78

158

T21

Matthew Messenger, Raleigh , NC-2021

85

74

159

T21

Aidan Harrington, Garner, NC-2021

75

84

159

T23

Blake Hess, Greenville, NC-2021

80

81

161

T23

Colby Tant, Greenville, NC-2021

78

83

161

T23

Austin Wood, Greenville, NC-2019

81

80

161

T23

Luke Keel, Greenville, NC-2021

81

80

161

27

Colton Danks, Roseboro, NC-2020

85

78

163

28

Shawn Matthews, Clinton, NC-2020

87

77

164

29

Holden Lee, Kenly, NC-2020

82

83

165

30

Finn Jarrell, Wake Forest, NC-2020

82

87

169

31

Brodie McFadden, Holly Springs, NC-2022

83

88

171

T32

Brycen Swain, Durham, NC-2021

82

90

172

T32

Donald Maddox, Durham, NC-2020

94

78

172

34

Trey Branch, Chocowinity, NC-2019

82

92

174

35

Davis Miller, Greenville, NC-2021

92

86

178

36

Ben Wilborn, Zebulon, NC-2020

96

89

185

37

Simon Owens, Tarboro, NC-2021

98

95

193

Daniel Adkins, Holly Springs, NC-2021

82

WD

WD

Boys' 11 & Under (9 holes each day)

Place

Name

Round1

Round2

Total

1

Nathan Heath, Winterville, NC-2027

51

57

89