Past TYGA Champs Represent the USA in Australia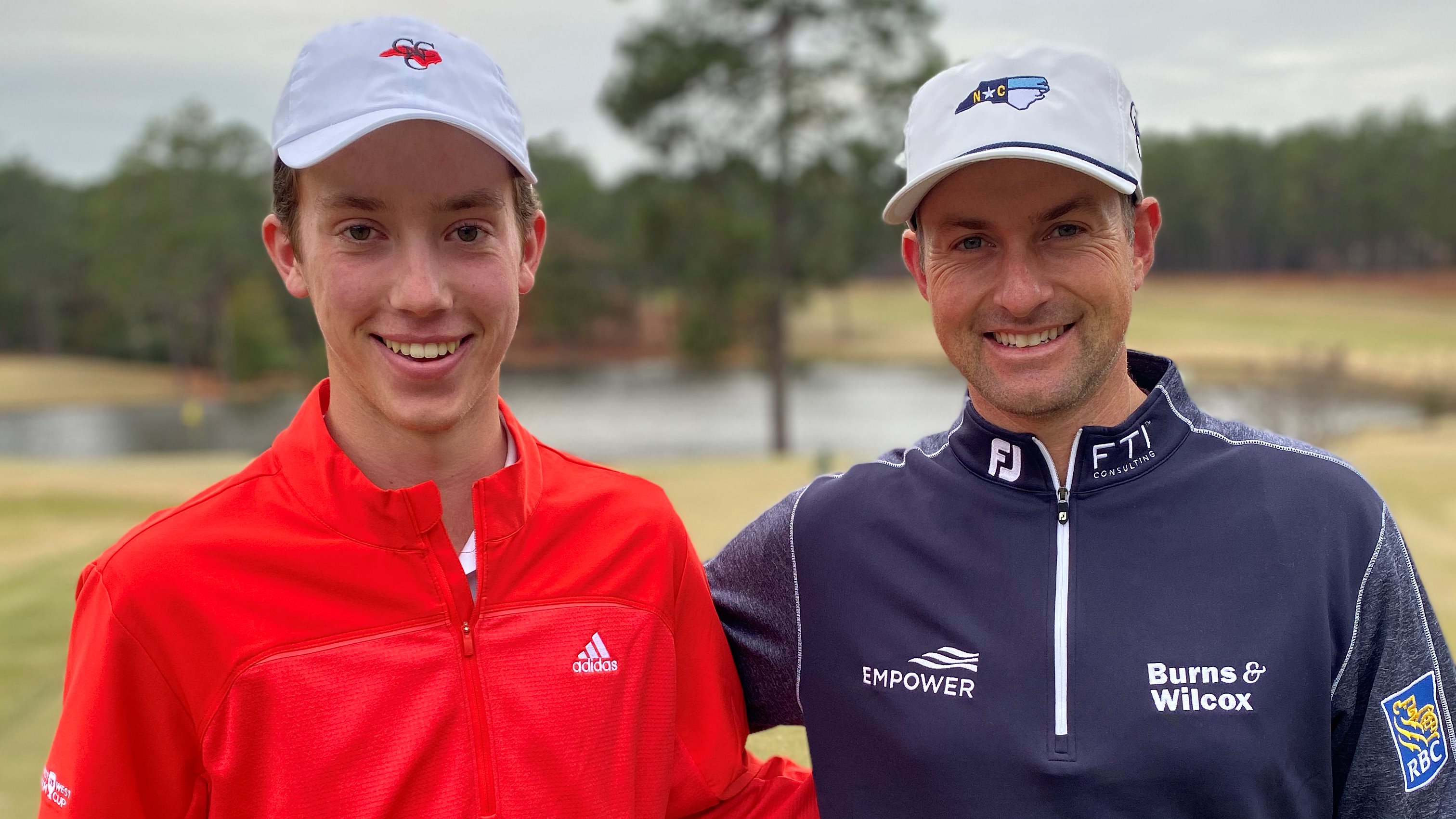 Van Paris (left) and Simpson together at their home club, CCNC in Pinehurst, N.C.
(DECEMBER 6) -- Two past CGA and TYGA Champions, Webb Simpson and Jackson Van Paris, will represent the U.S. next week at the 2019 Presidents Cup at Royal Melbourne Golf Club in Australia.
Not only are the two players past champions but they also happen to be members of the same club, The Country Club of North Carolina (CCNC) in Pinehurst, N.C.
Simpson, a long-time member of the club, and Van Paris, 16, are the only fellow golf club members to participate in the Presidents Cup competitions. The professionals play Dec. 12-15 and the junior competition is Dec. 8-9.
"Playing at the Presidents Cup with a young but very talented player from CCNC, one of my home clubs makes representing the U.S. feel a little closer to home even when we are in Australia," said Simpson, the 2012 U.S. Open champion, who also played in the Presidents Cup in 2011 and 2013. "Jackson and I are going to make the most of this unique opportunity. It should be a great week of golf for all of the competitors, professionals and juniors."
A five-time winner and a three-time USA Ryder Cup team member (2012, 2014, 2018) since his PGA Tour career began in 2008, Simpson was a three-time All-American and the Atlantic Coast Conference Player of the Year in 2008. He played collegiately at Wake Forest University and during his college days, he was a member of the victorious USA Walker Cup (2007) and U.S. Palmer Cup (2007) teams.
"To be playing in the Junior Presidents Cup for my country is a huge honor," said Van Paris, a three-time American Junior Golf Association All-America. "To be at Royal Melbourne with our Junior Team captain Justin Leonard and my teammates and the U.S. Team with captain Tiger Woods and Webb from CCNC and all the stars of golf is absolutely the chance of a lifetime. I cannot believe I will be there with all of the world's best golfers and I cannot wait to tee it up for the U.S.!"
Van Paris is the youngest member of the U.S. Junior Presidents Cup team. He advanced to the Round of 32 of the U.S. Amateur as a 14-year-old at Pebble Beach (Calif.) Golf Links in 2018. He was the second youngest to win a match surpassed only by arguably the greatest amateur golfer Bob Jones, who won a match at 14 years old in 1916. Van Paris won the 2019 AJGA Simply Boys Championship in February.
A resident of Pinehurst, N.C., he is a junior at the Pinecrest High School in Southern Pines, N.C.
Click here to follow the Presidents Cup
***
About The Country Club of North Carolina
The Country Club of North Carolina (CCNC), established in 1963, is a member-owned, gated residential community with 2,000 acres that features longleaf pines and three lakes and upscale tennis, fitness and swimming facilities. The membership is local and national.
Since 2003, it has been a certified member of the Audubon Cooperative Sanctuary Program. The Dogwood Course was designed by Ellis Maples and Willard Byrd and renovated by Kris Spence in 2016. The Cardinal Course, designed by Willard Byrd and Robert Trent Jones Sr., completed a renovation by Arthur Hills in 2002.
2019 rankings – Dogwood (No. 17 in North Carolina by Golf Digest; No. 5 in North Carolina by Business NC and NC Golf Panel); Cardinal (No. 15 in North Carolina by Business NC and NC Golf Panel)