2019 N.C. All-State Teams Announced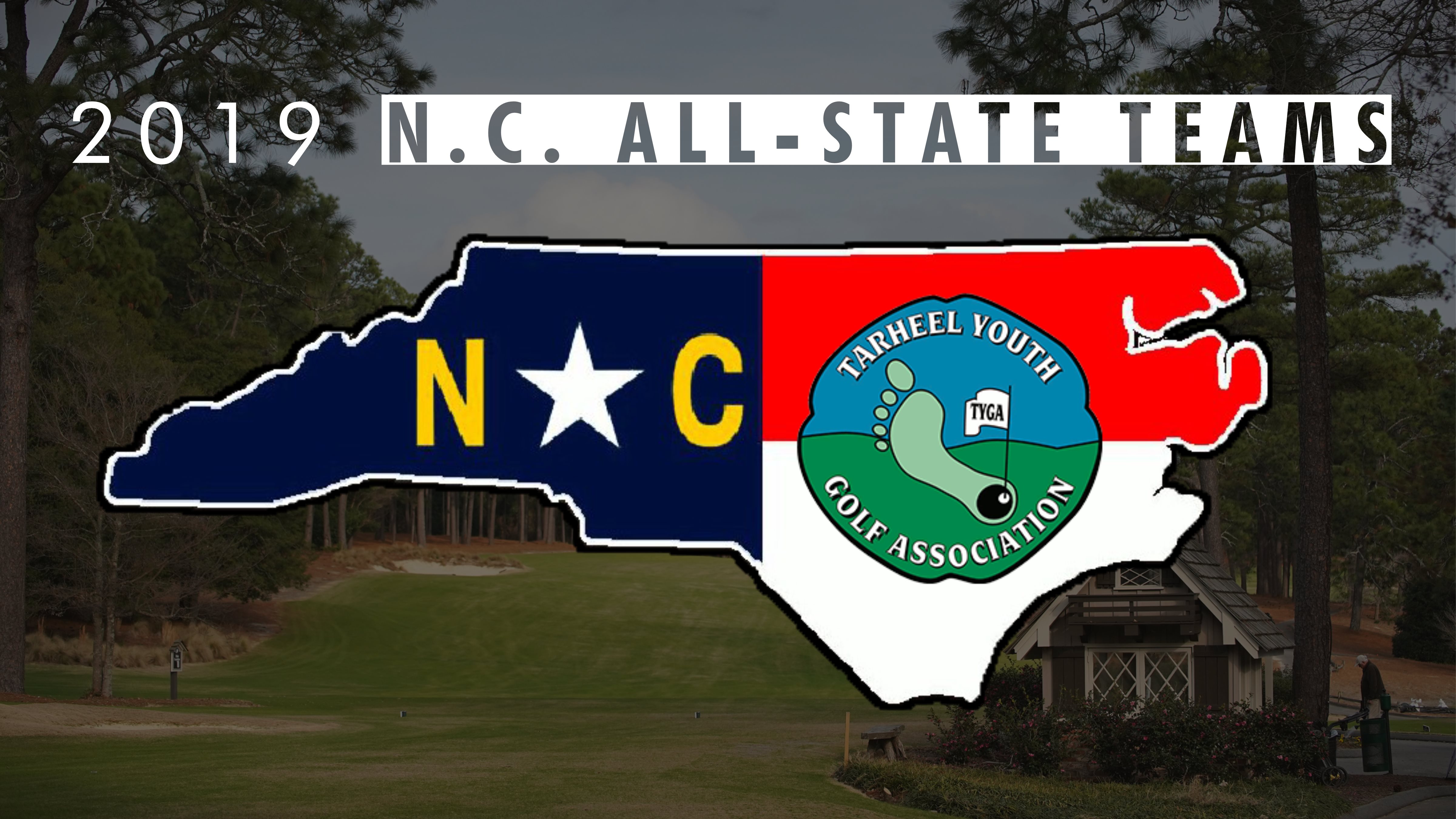 Southern Pines, NC—30 girls and 30 boys have been named to the 2019 N.C. All-State Golf Teams by the Tarheel Youth Golf Association and the Carolinas Golf Association honoring those junior golfers who have had the most success in amateur and junior golf events at the local, state, regional and national levels over the past 12 months.

2019 N.C. Girls' All-State Teams
FIRST TEAM
SECOND TEAM
THIRD TEAM
Nicole Adam
Pinehurst, NC
Victoria Cook
Reidsville, NC
Trinity Ahing
New Bern, NC
Maria Atwood
Holly Springs, NC
Riley Hamilton
Reidsville, NC
Anna Claire Bridge
Raleigh, NC
Macie Burcham
Greensboro, NC
Mara Hirtle
Pinehurst, NC
Kayla Dowell
Mebane, NC
Sophie Holland
Cornelius, NC
Grace Holcomb
Wilmington, NC
Anna Howerton
Kernersville, NC
Morgan Ketchum
Winston-Salem, NC
Jaclyn Kenzel
Southern Pines, NC
Elizabeth Lohbauer
Concord, NC
Emily Mathews
Mebane, NC
Alexsandra Lapple
Pinehurst, NC
Megan Morris
Cary, NC
Amanda Sambach
Davidson, NC
Halynn Lee
Cary, NC
Kallie Pavlish
Charlotte, NC
Katherine Schuster
Kill Devil Hills, NC
Trinity Muthomi
Kernersville, NC
Hailey Pendleton
Waxhaw, NC
Cindy Song
Waxhaw, NC
Macy Pate
Boone, NC
Ella Perna
Durham, NC
Kelley Topiwala
Charlotte, NC
Deborah Spair
Raleigh, NC
Chloe Pittman
Davidson, NC
2019 N.C. Boys' All-State Teams
FIRST TEAM
SECOND TEAM
THIRD TEAM
Tyler Dechellis
Clayton, NC
Caden Baker
Mebane, NC
Cameron Akers
Asheville, NC
Clayson Good
Durham, NC
Charlie Barr
Salisbury, NC
Austin Alexander
Rutherfordton, NC
Jack Heath
Charlotte, NC
Alex Campbell
Charlotte, NC
Blake Brantley
Winston Salem, NC
Alex Heffner
Harrisburg, NC
Sam Davidson
Asheboro, NC
Jackson Brimfield
Chapel Hill, NC
Randall Hudson
New Bern, NC
Jake Herring
Wilson, NC
Walker Isley
Oak Island, NC
Nicholas Mathews
Mebane, NC
Ike Joy
Denver, NC
Kyle Kushnir
Raleigh, NC
Todd Moyer
Cornelius, NC
Josh Lendach
Raleigh, NC
Matias La Grutta
Raleigh, NC
Zach Roberts
Holly Springs, NC
Casey Osiecki
New Bern, NC
Ben Morehead
Charlotte, NC
Caleb Surratt
Matthews, NC
Garrett Risner
Holly Springs, NC
Jake Newman
Charlotte, NC
Jackson Van Paris
Pinehurst, NC
Cameron Whitney
Charlotte, NC
Parker Truesdale
Canton, NC
To be eligible, each junior must have played in a minimum of five TYGA N.C. rankings events in 2019. The awards were determined by a combination of each player's scoring differential and the total points earned in the rankings events.
These outstanding juniors will be honored at the N.C. Junior Golf Night Awards Banquet on Saturday, January 25, 2020 at Pine Needles Lodge and Golf Club in Southern Pines, N.C.