Adam and Mathews Named 2019 NC POYs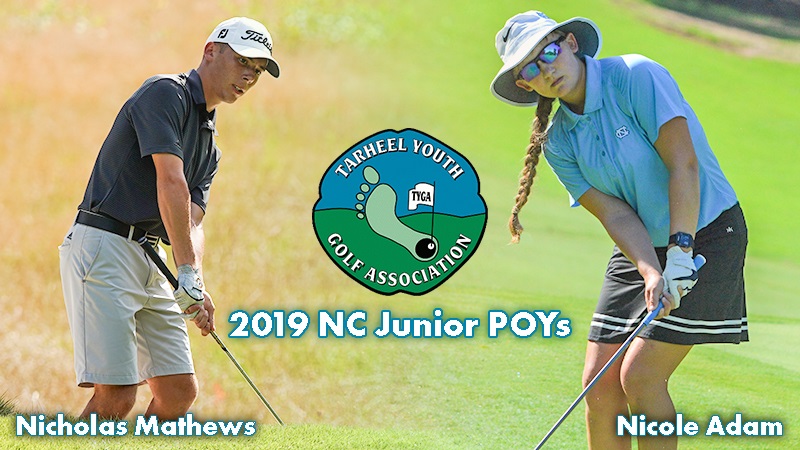 N.C. junior golf's best honored by the Tarheel Youth Golf Association and the Carolinas Golf Association
Nicole Adam Repeats as N.C. Junior Girls' Player of the Year
Southern Pines, NC – Nicole Adam of Pinehurst, N.C. and Nicholas Mathews of Mebane, N.C. have been named the 2019 N.C. Junior Players of the Year by the Tarheel Youth Golf Association (TYGA) and the Carolinas Golf Association (CGA). The N.C. Junior Player of the Year award recognizes one girl and one boy who have had the most successful year in amateur and junior golf events at the local, state, regional and national levels.
Adam, a 17-year-old senior at The O'Neal School, won the Carolinas PGA Junior and the Peggy Kirk Bell Girls' Junior along with top ten finishes in the NCISAA Girls' State Championship, the Dustin Johnson World Junior, the PKBGT Imperial Girls' Classic, the Vaughn Taylor Junior, the North and South Junior and the AJGA's Girls' Championship. Adam finished 2019 with a tournament scoring average of 72.92. "Nicole's work ethic is off the charts," said Adam's coach Donna Andrews. "She's a very dedicated golfer, she's playing golf because she loves the game, and she has a passion that you cannot teach. That's inspired her to continue to learn and to take the next step." Adam will begin her collegiate career this August at the University of North Carolina at Chapel Hill.
Nicholas Mathews named N.C. Junior Boys' Players of the Year
Mathews, an 18-year-old high school senior at Eastern Alamance High School, had a very successful 2019 finishing second in the Bullet and Peggy Bell Holiday Classic, third in the Hope Valley Junior Invitational, tied for fourth in the North and South Junior, reached the quarter-finals in the NC Junior Boys' and tied for medalist in qualifying in the US Junior Amateur. In the 23 junior events Mathews played in 2019, he finished in the top ten 11 times and had a scoring average of 73.58. Mathews signed to play college golf at NC State this past November. "Nick is a tremendous worker" said NC State Coach Press McPhaul. "He has great love for the game. He is technically sound with great instruction. I have been consistently impressed by Nick's game, work ethic and character as I have gotten the chance to know him. Proud to have him at NC State!"
The Player of the Year awards were determined by a combination of each player's tournament scoring differential and the total points earned in the TYGA NC ranking's events from January 1, 2019 through December 31, 2019 and who have not graduated from high school.
These outstanding juniors, along with the 2019 N.C. All-State Girls' and Boys' teams, will be honored at the N.C. Junior Golf Night Awards Banquet on Saturday, January 25, 2020 at Pine Needles Lodge & Golf Club in Southern Pines, N.C.