N.C. Junior Golf Night Announcement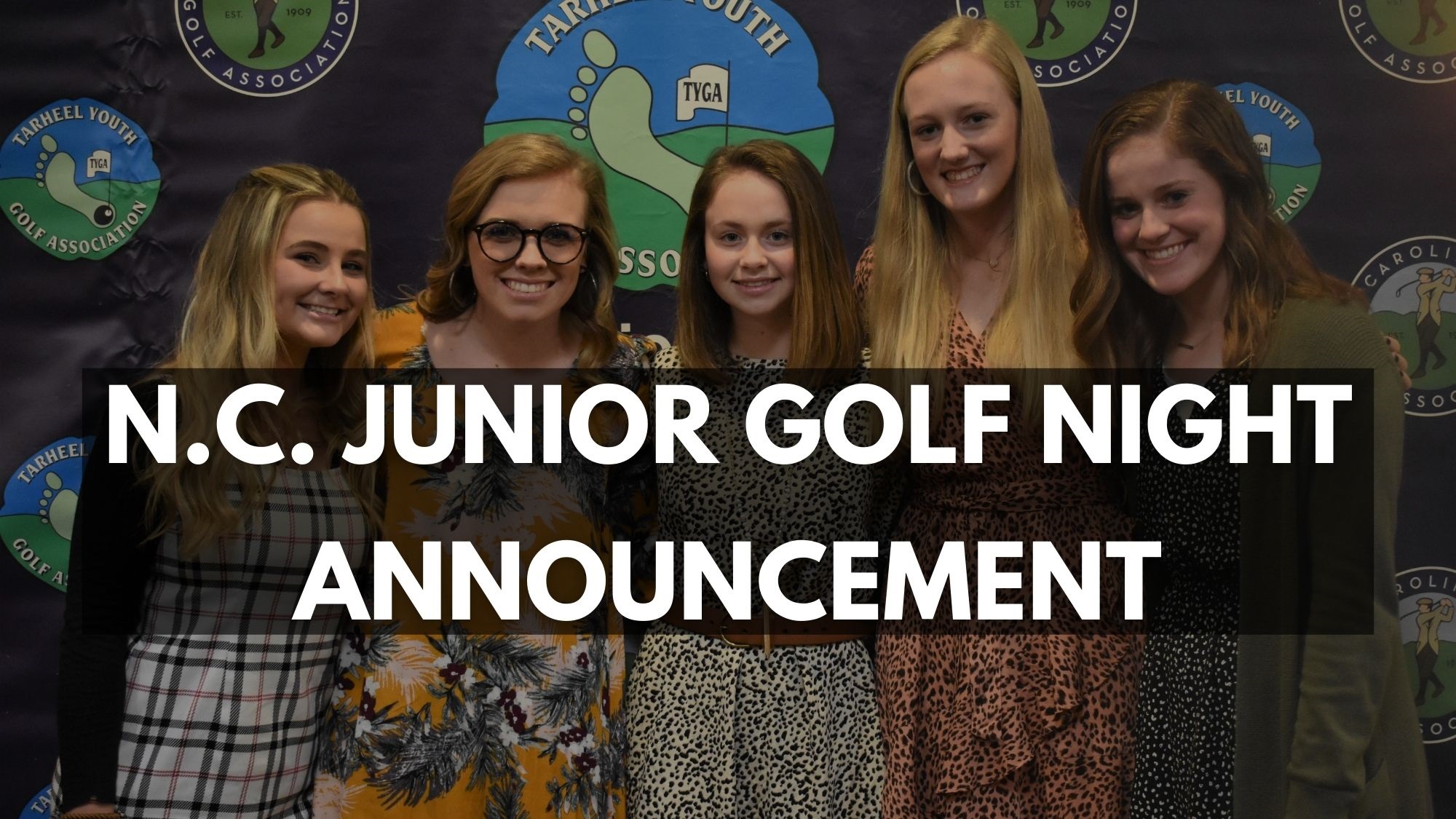 SOUTHERN PINES, NC (December 8, 2020)—The Tarheel Youth Golf Association (TYGA) and the Carolinas Golf Association (CGA) will announce the 2020 North Carolina Junior Players of the Year and North Carolina All-State honors on January 7, 2021 to those who have established themselves as the state's best junior golfers during 2020.
Due to Covid-19, regretfully, TYGA and CGA will not host the N.C. Junior Golf Night awards banquet. All awards will be mailed to the winners the first week of February.
The Junior Player of the Year awards will recognize one boy and one girl who had the most successful year in junior and amateur golf events at local, state and national levels.
The All-State teams will include 10 boys and girls on the first team, 10 boys and girls on the second team and 10 boys and girls on the third team.
The following criteria must be met to be eligible:
Must have played a minimum of five TYGA rankings events in 2020.

Must be 18 years of age or younger as of December 31, 2020.

Must not have started college.
​
The all-state awards will be determined by a combination of each player's scoring differential and the total points earned in the rankings events.
About the Tarheel Youth Golf Association (TYGA)
The Tarheel Youth Golf Association (TYGA), a division of the Carolinas Golf Association, a 501 (c) 3 organization, provides playing opportunities for its members, conducts educational seminars and events, acts as a junior golf informational clearinghouse, provides free USGA handicaps to junior golfers in North Carolina, recruits sponsor clubs that grant junior access to golf facilities in North Carolina, publishes monthly North Carolina junior rankings, and awards Junior Player of the Year and All-State awards to the top juniors in North Carolina. Membership is open to any boy or girl who are legal residents of N.C.; are 18 years of age and under; and who have not started college.
About the Carolinas Golf Association (CGA)
The CGA is a 501(c)(3) not-for-profit educational organization that was founded in 1909 to promote and to protect the game of golf in the Carolinas by providing competitions, education, support and benefits to golf clubs and golfers. The CGA is the second largest golf association in the country with over 700 member clubs represented by nearly 150,000 individuals.
The CGA annually conducts 48 championships and five team match competitions for men, women, juniors, and seniors. It also runs over 150 One-Day (net and gross) events as well as qualifying for USGA national championships. The CGA serves golf in the Carolinas with numerous programs such as: the USGA Handicap System; tournament management software and support; course measuring and course/slope ratings; agronomy consultation; answers about the Rules of Golf, Rules of Amateur Status, and Handicapping;
Carolinas Golf
Magazine; Interclub series; Tarheel Youth Golf Association; Carolinas Golf Hall of Fame; expense assistance for USGA Junior and Girls' Junior qualifiers from the Carolinas; and the Carolinas Golf Foundation (CGF). The CGF has distributed nearly $2,000,000 since 1977 to benefit Carolinas' golf initiatives including junior and women's programs.