Bartholomew and DeChellis Named NC Junior Players of the Year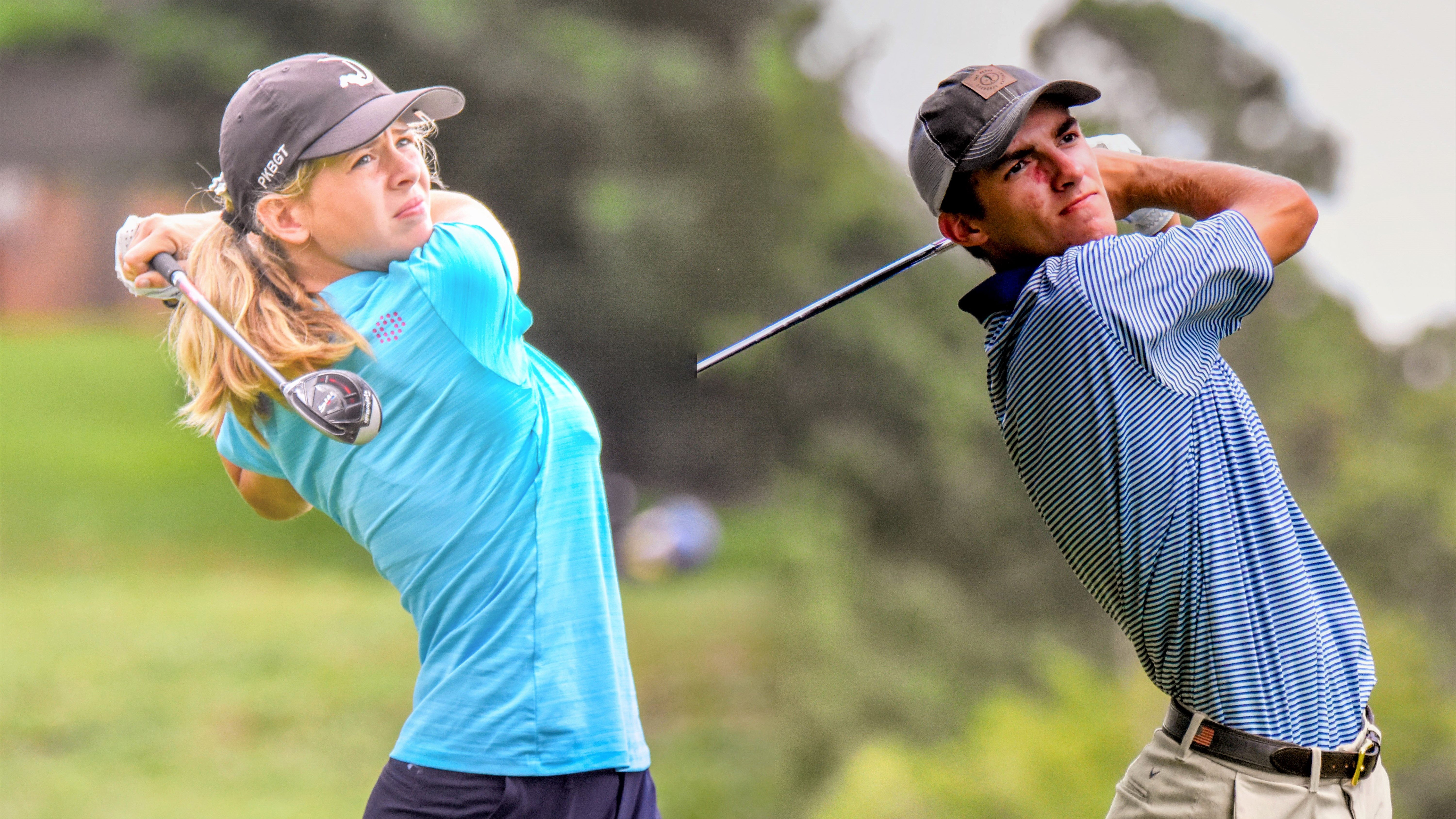 SOUTHERN PINES, N.C. (January 15, 2021) -- North Carolina is home to some of the most talented junior golfers in the country, but only one girl and one boy can be named the North Carolina Junior Players of the Year each year by the Tarheel Youth Golf Association (TYGA) and Carolinas Golf Association (CGA). Kiera Bartholomew of Wake Forest, N.C. and Tyler DeChellis of Clayton, N.C. have earned that honor by having the most successful year in junior golf events at the local, state, regional and national levels.
Kiera Bartholomew is a 16-year-old sophomore at North Raleigh Christian Academy who moved to North Carolina from New Jersey this year and took junior girls golf by storm. Bartholomew finished in the top-5 in twelve events since June. She earned runner-up in five of those twelve events including the PKBGT Tour Championship, the Coastal Carolina Classic, the North Carolina Series at Bermuda Run Country Club and Country Club of Whispering Pines, and the Winternational Series Event #3.
Upon learning that she had earned this honor, Bartholomew remarked, "It is an honor to be recognized by the CGA and TYGA as the player of the year. I was really excited to play in CGA tournaments since moving to North Carolina. There are so many talented players that make the tournaments really competitive and fun." The high school sophomore with a 74.26 tournament scoring average said, "I feel truly blessed and thankful that God gave me the opportunity to play on such a great tour. I look forward to competing again this year with all of the other golfers at great courses chosen by the CGA."
Tyler DeChellis, an 18-year-old senior at Clayton High School had a successful year claiming third at the TYGA Coastal Plains Junior and Carolinas-Georgia Junior, tying for fourth at the Hope Valley Junior, finishing in fifth at the Carolinas Junior Boys' and tying for sixth at the Creed Boys' and Dogwood State Junior. DeChellis finished in the top 10 at five of the nine CGA and TYGA events he played in 2020. The future East Carolina University Pirate, as of his commitment in November, had an outstanding tournament scoring average of 71.84 this year.
"It means a lot to me to be the North Carolina Junior Player of the Year and it wouldn't be possible without the CGA and TYGA as well as my Mom, Dad and family," he said. "I remember thinking how impossible it would be to be ranked inside the top 30, now to win this award is pretty crazy. I was disappointed to not win a tournament this year, but this definitely makes up for it. I've had a lot of fun over the years playing in junior tournaments with my friends, but I can't wait for the future." DeChellis will begin his collegiate career this fall at East Carolina University.
The Player of the Year awards were determined by a combination of each player's tournament scoring differential and the total points earned in the TYGA North Carolina Junior Rankings from January 1, 2020 through December 31, 2020 and who have not started college.
About the Tarheel Youth Golf Association (TYGA)
The Tarheel Youth Golf Association (TYGA), a division of the Carolinas Golf Association, a 501 (c) 3 organization, provides playing opportunities for its members, conducts educational seminars and events, acts as a junior golf informational clearinghouse, provides free USGA handicaps to junior golfers in North Carolina, recruits sponsor clubs that grant junior access to golf facilities in North Carolina, publishes monthly North Carolina junior rankings, and awards Junior Player of the Year and All-State awards to the top juniors in North Carolina. Membership is open to any boy or girl who are legal residents of N.C.; are 18 years of age and under; and who have not started college.

About the Carolinas Golf Association (CGA)
The CGA is a 501(c)(3) not-for-profit educational organization that was founded in 1909 to promote and to protect the game of golf in the Carolinas by providing competitions, education, support and benefits to golf clubs and golfers. The CGA is the second largest golf association in the country with over 700 member clubs represented by nearly 150,000 individuals.
The CGA annually conducts 48 championships and five team match competitions for men, women, juniors, and seniors. It also runs over 150 One-Day (net and gross) events as well as qualifying for USGA national championships. The CGA serves golf in the Carolinas with numerous programs such as: the USGA Handicap System; tournament management software and support; course measuring and course/slope ratings; agronomy consultation; answers about the Rules of Golf, Rules of Amateur Status, and Handicapping; Carolinas Golf Magazine; Interclub series; Tarheel Youth Golf Association; Carolinas Golf Hall of Fame; expense assistance for USGA Junior and Girls' Junior qualifiers from the Carolinas; and the Carolinas Golf Foundation (CGF). The CGF has distributed nearly $2,000,000 since 1977 to benefit Carolinas' golf initiatives including junior and women's programs.
For more information about the CGA, visit our website.
##30##