Preview: Bojangles Junior Open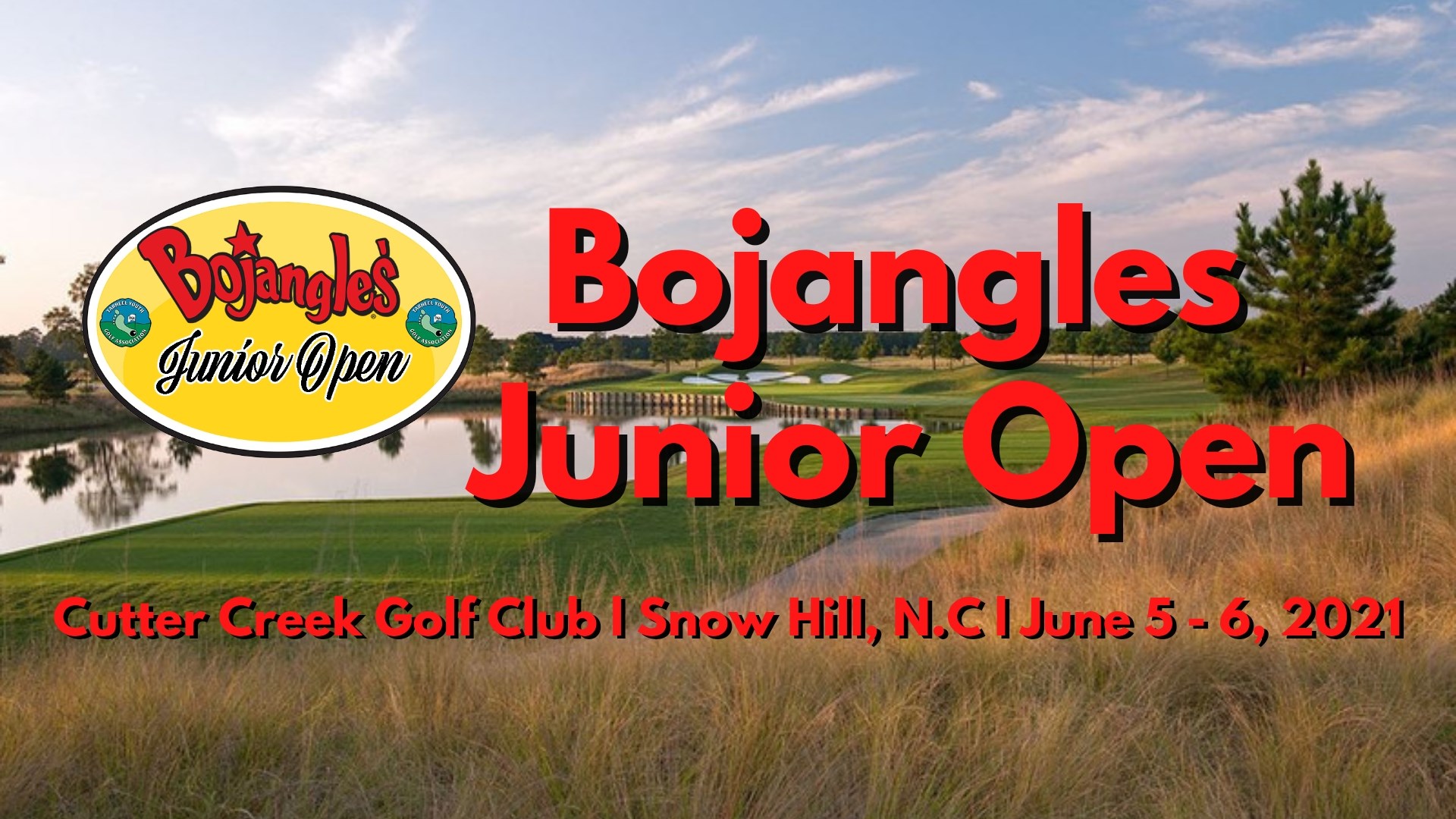 SOUTHERN PINES, N.C. (June 2, 2021) -- The Tarheel Youth Golf Association will conduct the TYGA Bojangles Junior Open at Cutter Creek Golf Club in Snow Hill, N.C. from June 5-6, 2021. The field will compete from the Blue tees which play at 6,890 yds, par 72.
Related: Tournament Web Site | Full Field of Players | Starting Times | Scoring

Top 50 ranked players in the field:
No. 2 Branden Boyce of Spring Lake, N.C.

No. 8 Kyle Haas of Winston-Salem, N.C.

No. 11 Gray Mitchum of Winterville, N.C.

No. 14 Tyler Jones of Greensboro, N.C.

No. 19 Colin Salema of Matthews, N.C.

No. 20 Keegan Royalty of Raleigh, N.C

No. 24 Bryan Fang of Raleigh, N.C.

No. 26 James Rico of Cary, N.C.

No. 29 Jonathan Honeywell of Whispering Pines, N.C.

No. 32 Steven Shea of Charlotte, N.C.

No. 34 Cornell Beans of Charlotte, N.C.

No. 35 Quinlan Polin of Cary, N.C.

No. 37 Fisher Kennedy of Winston-Salem, N.C.

No. 38 Ethan Paschal of Fayetteville, N.C.

No. 39 Ryan Jahr of Ocean Isle Beach, N.C.

No. 41 Alan Van Asch of Raleigh, N.C.

No. 43 Jack Boyer of Greensboro, N.C.

No. 47 Jack Wieler of Waxhaw, N.C.

No. 48 Bradley Davis Jr. of Pilot Mountain, N.C.

No. 49 Benjamin Bailey of Huntersville, N.C.

No. 50 Cameron Hardison of Greenville, N.C.

Cutter Creek is a beautiful but challenging 18 hole championship golf course where skills and mental game will be tested. The course was designed by renowned golf course architect Bob Moore and has hosted the Bojangles Junior Open since its inaugural tournament in 2015.

The Bojangles Junior Open is a 36-hole, stroke play event.

Entry is open to any male amateur golfer ages 13 to 18 as of June 6, 2021, who has not started college and is a legal resident of North Carolina.

Scoring will be provided by the TYGA throughout the championship, offering 9 and 18-hole updates. Live updates will also be available on the TYGA's official Twitter, Instagram and Facebook accounts @TYGAgolf. Continue to visit the TYGA website throughout this championship and all year long for complete championship coverage including scores, interviews, photos and recaps.
Schedule of rounds:
Saturday, June 5
Round 1 Starting Times: 12:30 - 2:30 p.m. off Nos. 1 and 10
Sunday, June 6
Round 2 Starting Times: 8:00 - 10:00 a.m. off Nos. 1 and 10
Awards Ceremony Presentation begins at 2:30 p.m.
About the Tarheel Youth Golf Association (TYGA)
The Tarheel Youth Golf Association (TYGA), a division of the Carolinas Golf Association, a 501 (c) 3 organization, provides playing opportunities for its members, conducts educational seminars and events, acts as a junior golf informational clearinghouse, provides free USGA handicaps to junior golfers in North Carolina, recruits sponsor clubs that grant junior access to golf facilities in North Carolina, publishes monthly North Carolina junior rankings, and awards Junior Player of the Year and All-State awards to the top juniors in North Carolina. Membership is open to any boy or girl who are legal residents of N.C; are 18 years of age and under; and who have not started college.

##30##