Pate and Surratt Named N.C. Junior Players of the Year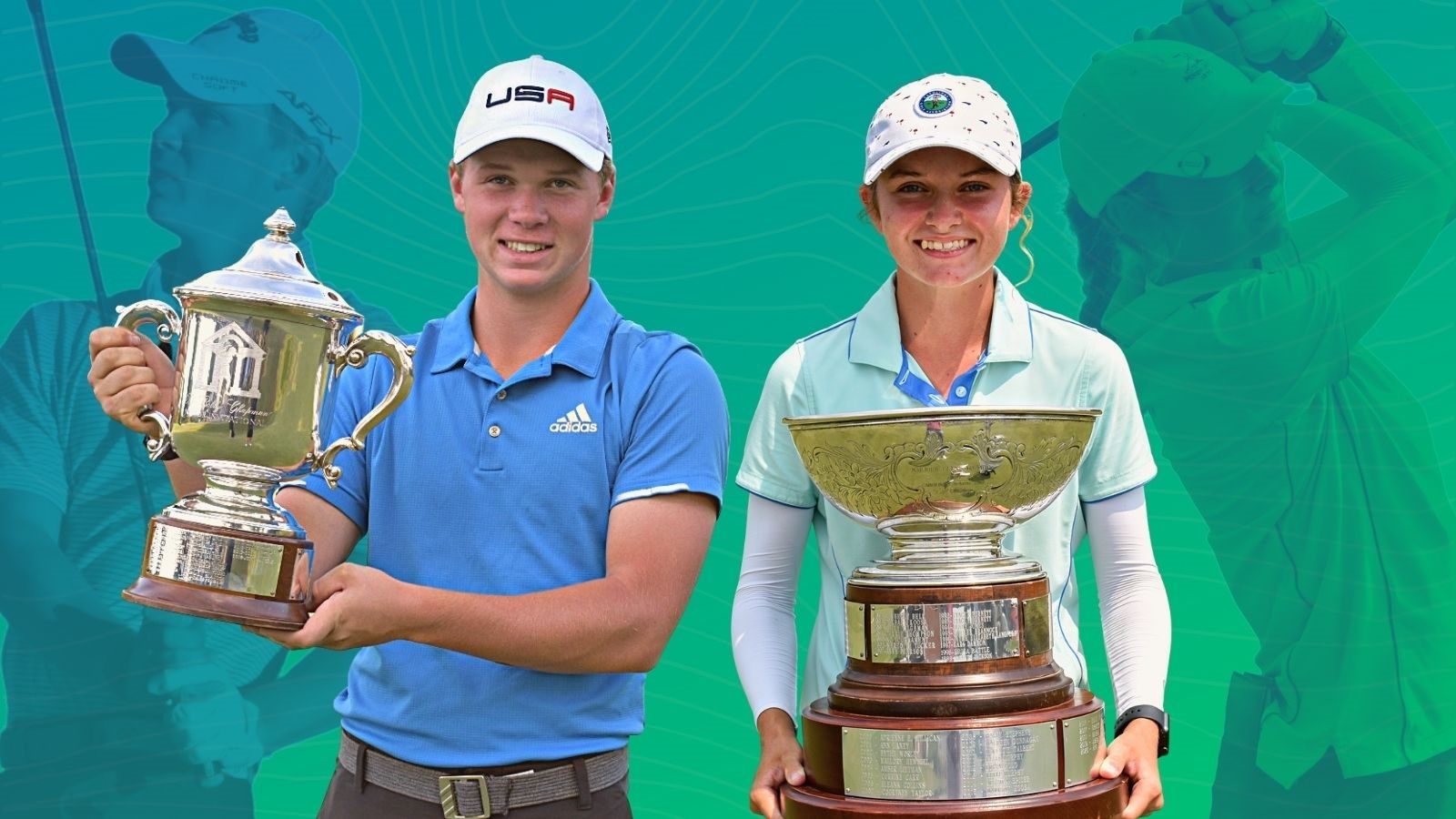 SOUTHERN PINES, N.C. (January 21, 2022) -- North Carolina is home to some of the most talented junior golfers in the country, but only one girl and one boy can be named the North Carolina Junior Players of the Year each year by the Tarheel Youth Golf Association (TYGA) and Carolinas Golf Association (CGA). Macy Pate of Winston-Salem, N.C. and Caleb Surratt of Matthews, N.C. have earned that honor by having the most successful year in junior golf events at the local, state, regional and national levels.
Macy Pate of Winston-Salem, N.C. had a year to remember on the junior golf circuit in the Carolinas. In 33 events on her 2021 calendar, Pate collected eight victories, including titles at both the Carolinas Golf Association's Carolinas Junior Girls' and North Carolina Junior Girls' Championships. What may be the most astounding fact of her historic campaign, is the feat of finishing within the top-10 in 29 out of 33 tournaments.
"I'm really thankful to be named player of the year," said Pate. "I worked really hard this year. I played some good golf and after that first win continued to play well. It really means a lot because all of the tournaments I'm playing are with my best friends or teammates. It really does mean a lot."


The high school sophomore also made waves nationally, after shooting a 14-under-par, 57 at the Central Piedmont 4A Conference Championship for Reagan High School.
"When I first made the all state teams a couple years ago I remember setting this as one of my goals and that it'd be really cool to win," said Pate. "Once I started winning I realized this could actually happen."
Caleb Surratt of Matthews, N.C. tore up the junior boys' circuit in 2021, collecting four wins and raising eyebrows in national events. Along with his run to the Round of 16 in the U.S. Junior Amaeteur at the Country Club of North Carolina this past summer, Surratt was victorious in the PGA Junior Boys' Championship, with rounds of 69-67-62-70 to propel him to a three-shot victory.

"I'm more of a one shot at a time player so it was never really on my mind," said Surratt. "One tournament at a time and I try not to focus on the outside things. It's a byproduct of playing good golf and it's awesome to receive, it's an absolute honor and I'm pretty excited about it."

Surratt is headed to the University of Tennessee in the Fall of 2022 to continue his education and golf career.
"It's definitely one of those goals you lay out at the start of the year," said Surratt. "I just try to let it all figure itself out and if I play good golf it's one of those things that will just happen. I was just trying to play as good as I can."
The Player of the Year awards were determined by a combination of each player's tournament scoring differential and the total points earned in the TYGA North Carolina Junior Rankings from January 1, 2021 through December 31, 2021 and who have not started college.
About the Tarheel Youth Golf Association (TYGA)
The Tarheel Youth Golf Association (TYGA), a division of the Carolinas Golf Association, a 501 (c) 3 organization, provides playing opportunities for its members, conducts educational seminars and events, acts as a junior golf informational clearinghouse, provides free USGA handicaps to junior golfers in North Carolina, recruits sponsor clubs that grant junior access to golf facilities in North Carolina, publishes monthly North Carolina junior rankings, and awards Junior Player of the Year and All-State awards to the top juniors in North Carolina. Membership is open to any boy or girl who are legal residents of N.C.; are 18 years of age and under; and who have not started college.

About the Carolinas Golf Association (CGA)
The CGA is a 501(c)(3) not-for-profit educational organization that was founded in 1909 to promote and to protect the game of golf in the Carolinas by providing competitions, education, support and benefits to golf clubs and golfers. The CGA is the second largest golf association in the country with over 700 member clubs represented by nearly 150,000 individuals.
The CGA annually conducts 48 championships and five team match competitions for men, women, juniors, and seniors. It also runs over 150 One-Day (net and gross) events as well as qualifying for USGA national championships. The CGA serves golf in the Carolinas with numerous programs such as: the USGA Handicap System; tournament management software and support; course measuring and course/slope ratings; agronomy consultation; answers about the Rules of Golf, Rules of Amateur Status, and Handicapping; Carolinas Golf Magazine; Interclub series; Tarheel Youth Golf Association; Carolinas Golf Hall of Fame; expense assistance for USGA Junior and Girls' Junior qualifiers from the Carolinas; and the Carolinas Golf Foundation (CGF). The CGF has distributed nearly $2,000,000 since 1977 to benefit Carolinas' golf initiatives including junior and women's programs.
For more information about the CGA, visit our website.
##30##