Preview: Coastal Plains Junior Amateur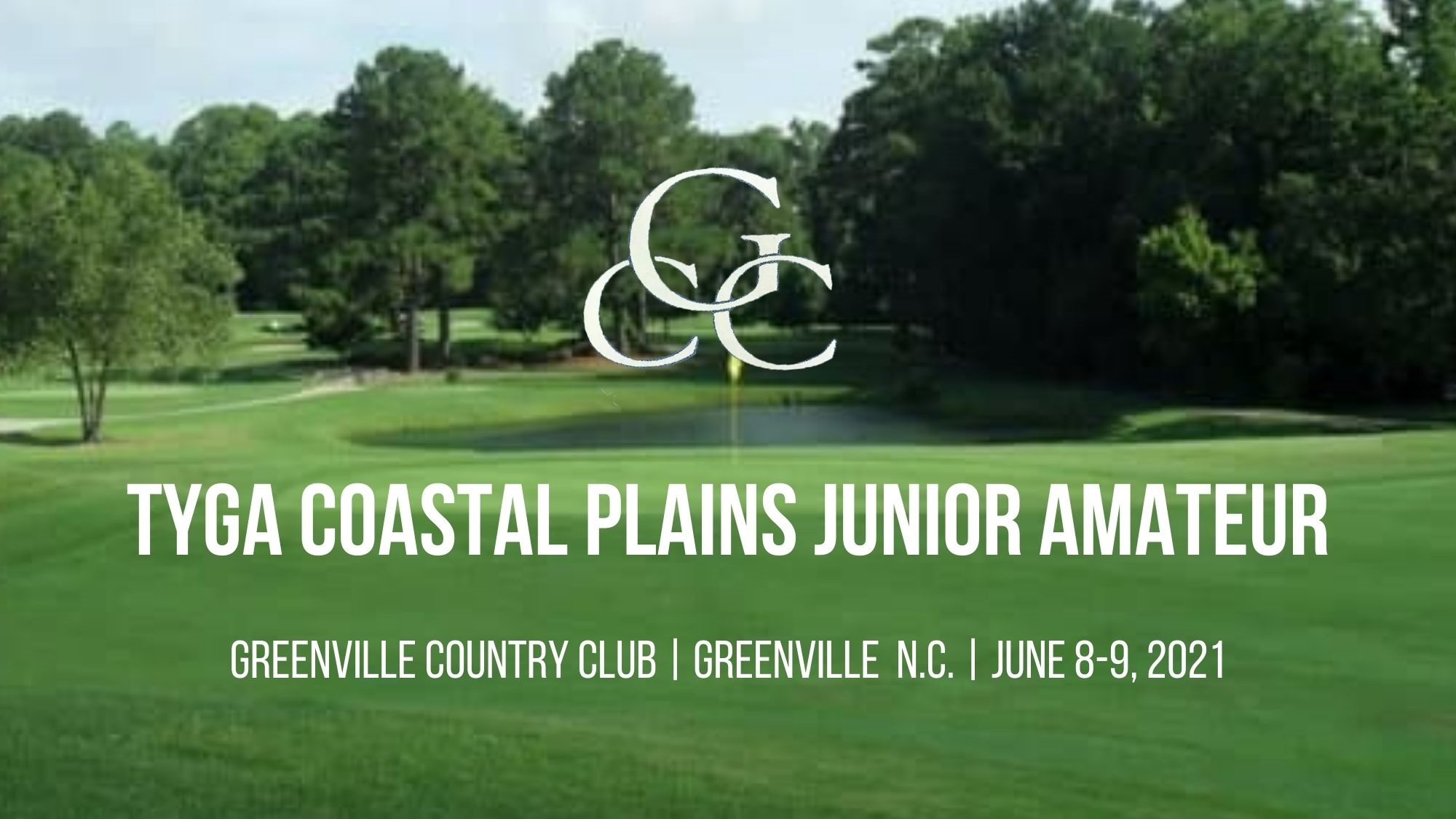 GREENVILLE, N.C. (June 7, 2021) -- The Tarheel Youth Golf Association will conduct the TYGA Coastal Plains Junior Amateur at Greenville Country Club in Greenville, N.C. from June 8-9, 2021. The boys field will compete from the Blue tees which play at 6257 yds, par 71 and the girls field will compete from the White tees which play at 5557 yds, par 71.
Related: Tournament Web Site | Full Field of Players | Starting Times | Scoring
Round one of the Coastal Plains Junior can serve as a qualifier for the CGA NC Junior Boys. Boys wanting to qualify must register for the qualifier at time of registering for the Coastal Plains Junior. The number of qualifying spots will be capped at top-10 and ties.
Top-100 Ranked Players in the Field:
Girls:
No.45 Kaitlyn Rand of Raleigh, N.C.

No.61 Lily Kate Watson of Raleigh, N.C.

No.66 Madison Myers of Cary, N.C.

No.67 Sanna Carter of Jacksonville, N.C.

No.88 Jenna Rutledge of Beaufort, N.C.
Boys:
No.12 Gray Mitchum of Winterville, N.C.

No.25 Bryan Fang of Raleigh, N.C.

No.33 Holland Giles of Pinehurst, N.C.

No.43 Jack Wieler of Waxhaw, N.C.

No.53 Cameron Hardison of Greenville, N.C.

No.93 Nathan O'Neal of Wilson, N.C.
Past Champions in the field
John-Paul Wagner of Cary, N.C. won the TYGA Coastal Plains Junior Amateur Boys 12-13 age group in 2020.
Greenville Country Club was Designed by John LaFoy and was opened in 2012. Embracing the stunning beauty of the natural environment, the River Course runs along the Northeast Cape Fear River. This 18-hole championship course incorporates five tee boxes, Champion Bermuda on the greens and Tifway 419 Bermuda for the tees and fairways.

Entry is open to any female and male amateur golfer ages 12-18 who has not started college, is a legal resident of North Carolina and has an active USGA GHIN handicap.
Scoring will be provided by the TYGA throughout the championship, offering 9 and 18-hole updates. Live updates will also be available on the TYGA's official Twitter, Instagram and Facebook accounts @TYGAgolf. Continue to visit the TYGA website throughout this championship and all year long for complete championship coverage including scores, interviews, photos and recaps.
Schedule of rounds:
Tuesday, June 8
Round 1 Starting Times: 8:00 am - 9:50 am and 12:30 pm - 2:00 pm double tee start.
Wednesday, June 9
Round 2 Starting Times: 8:00 a.m. to 10:00 a.m. off Nos. 1 and 10
About the Tarheel Youth Golf Association (TYGA)
The Tarheel Youth Golf Association (TYGA), a division of the Carolinas Golf Association, a 501 (c) 3 organization, provides playing opportunities for its members, conducts educational seminars and events, acts as a junior golf informational clearinghouse, provides free USGA handicaps to junior golfers in North Carolina, recruits sponsor clubs that grant junior access to golf facilities in North Carolina, publishes monthly North Carolina junior rankings, and awards Junior Player of the Year and All-State awards to the top juniors in North Carolina. Membership is open to any boy or girl who are legal residents of N.C; are 18 years of age and under; and who have not started college.
##30##