Tyga Metro Junior Open Preview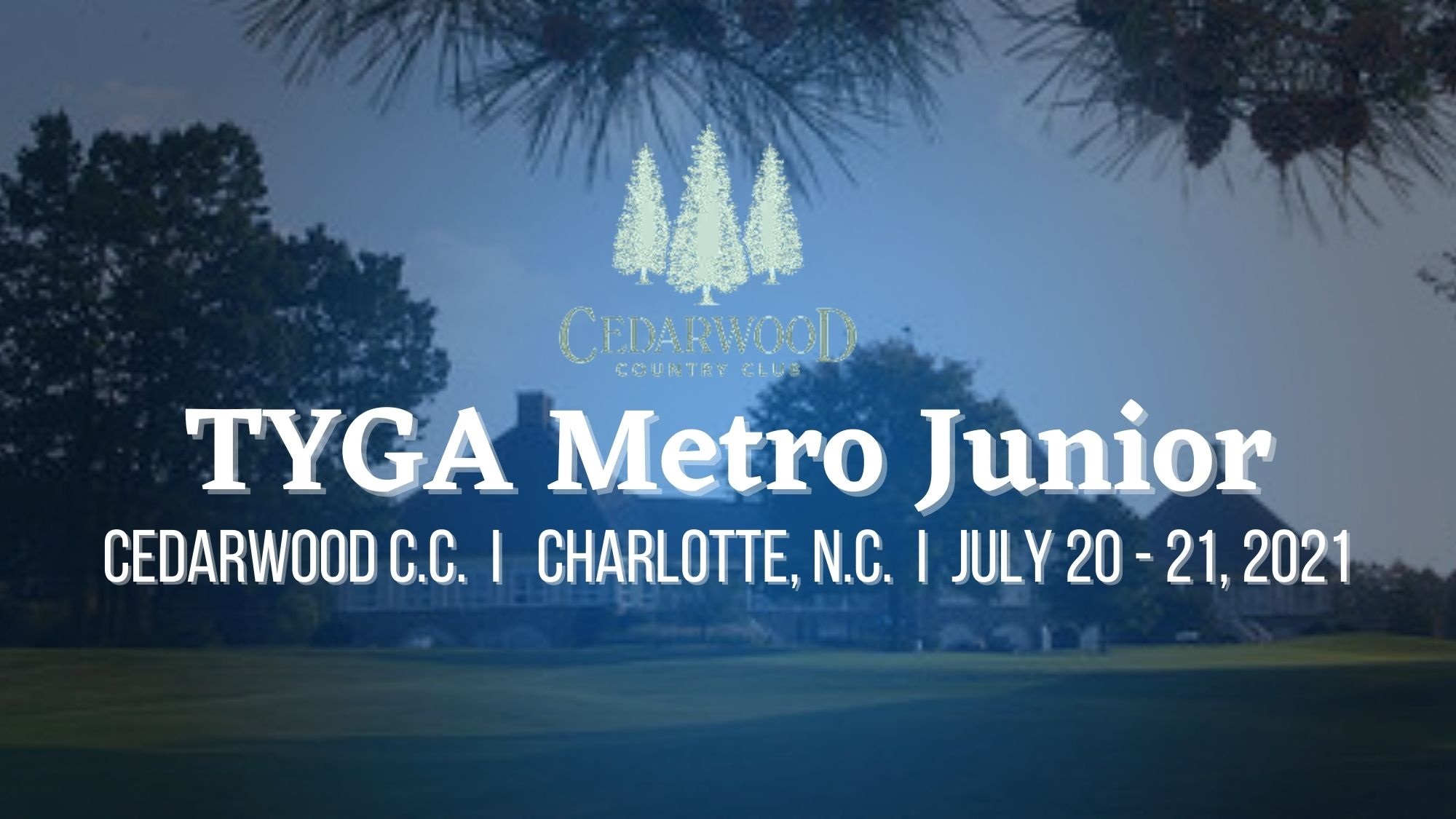 SOUTHERN PINES, N.C. (July 19, 2021) -- The Tarheel Youth Golf Association will conduct the TYGA Metro Junior at Cedarwood Country Club in Charlotte, N.C. from July 20-21, 2021. Boys 14-18 will play the Blue tees (6425 yards, par 71). Boys 12-13 will play the Gold tees (5607 yards, par 71).
Related: Tournament Web Site | Full Field of Players | Starting Times | Scoring
Top 50 Ranked N.C. Junior Boys In Field:
No. 11 Colin Salema of Matthews, N.C.
No. 37 Steven Shea of Charlotte, N.C.
No. 39 Mack Edwards of Charlotte, N.C.
Round one of the Metro Junior can serve as a qualifier for the CGA Carolinas Junior Boys. Boys wanting to qualify must register for the qualifier at time of registering for the Metro Junior. The number of qualifying spots will be determined after registration closes.
Cedarwood was designed by Ellis Maples, famed for his work at Grandfather Mountain and the Country Club of North Carolina at Pinehurst. The course stretches out to almost 7,000 yards from the Black Tees, and wanders over rolling terrain dotted with hardwoods, cedars, and lovely ponds. The fairways are lush Bermuda, the greens are TifEagle Ultradwarf Bermuda grass. Like any great course, it gives players risk-reward choices throughout the round. This characteristic makes the course pleasurable and challenging to golfers of all ages and abilities levels.
The TYGA Metro Junior is 36-holes of individual stroke play. Entry is open to any female and male amateur golfer ages 12-18 who has not started college and has an active USGA GHIN handicap. Scoring will be provided by the TYGA throughout the championship, offering 9 and 18-hole updates. Live updates will also be available on the TYGA's official Twitter, Instagram and Facebook accounts @TYGAgolf. Continue to visit the TYGA website throughout this championship and all year long for complete championship coverage including scores, interviews, photos and recaps.
Schedule of rounds:
Tuesday, July 20
Round 1 Starting Times: 8:00am - 9:59 a.m. off Nos. 1 and 10
Wednesday, July 21
Round 2 Starting Times: 8:00 - 9:59 a.m. off Nos. 1 and 10 Awards Ceremony Presentation to follow
About the Tarheel Youth Golf Association (TYGA) The Tarheel Youth Golf Association (TYGA), a division of the Carolinas Golf Association, a 501 (c) 3 organization, provides playing opportunities for its members, conducts educational seminars and events, acts as a junior golf informational clearinghouse, provides free USGA handicaps to junior golfers in North Carolina, recruits sponsor clubs that grant junior access to golf facilities in North Carolina, publishes monthly North Carolina junior rankings, and awards Junior Player of the Year and All-State awards to the top juniors in North Carolina. Membership is open to any boy or girl who are legal residents of N.C; are 18 years of age and under; and who have not started college.
##30##