River Ridge to Host TYGA Tournament of Champions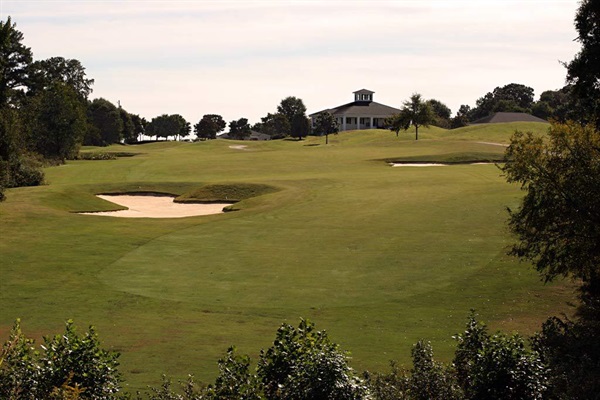 TYGA Tournament of Champions to be Hosted by River Ridge Golf Club

Southern Pines, NC – The Tarheel Youth Golf Association (TYGA) is excited to announce River Ridge Golf Club will host the TYGA Tournament of Champions on August 15-16, 2017.
The 36-hole stroke play event is scheduled to be played on August 15-16. This event is open to the first 84 players who received an invitation by winning their division in a TYGA one day event or TYGA championships. This event will be used for rankings for both TYGA and Junior Golf Scoreboard. The boys' and girls' overall champions will receive invitations to the 2017 Joe Cheves Junior.

Landscape architect Chuck Smith designed one of the jewels of his career in River Ridge by carving six par-4s and an 18th hole par-5 into the unique landscape created by the ravines and rolling hills of the nearby meandering Neuse River. With arguably some of the most varied terrain and thoughtfully crafted holes in the Triangle, River Ridge is artfully cut from its natural surroundings to create a perfect blend of impeccably maintained course conditions that are in harmony with nature.

Registration closes for The TYGA Tournament of Champions on August 11th at 11:59 pm.

DATES
August 15-16, 2017

FORMAT
The championship format is 36-hole individual stroke play.

YARDAGES
Yardages will be based on division.
AGE DIVISIONS
Boys' Overall (14-18), Boys' 14-15. Boys' 16-18, Boys' 12-13, Boys' 11 and Under (9 holes only)
Girls' Overall (14-18), Girls' 12-13, Girls' Under 11 (9 holes only).

ELIGIBILITY
Invitations for the 2017 Tournament of Champions will be extended to all division winners in each TYGA one day series event, division winners in the 2017 TYGA Pinewild CC Junior Shoot Out, the 2017 North State High School Challenge medalist and champion team members, the 2017 NC High School Invitational medalist and champion team members, overall winners of 2016 TYGA State Championship, the 2016 Roy Jones Junior Championship.

PRIZES
Trophies are awarded to the champion, runner-up, and third place in each division.

MAPLE CHASE GOLF & COUNTRY CLUB INFORMATION
HEAD PROFESSIONAL: John Partin
COURSE SUPERINTENDENT: Rodney Moss
TOURNAMENT DIRECTOR: Chase Liebler
YARDAGE/PAR: 6,769 yards, par 72
FAIRWAYS & TEES: Bermuda grass
GREENS: Mini Verde